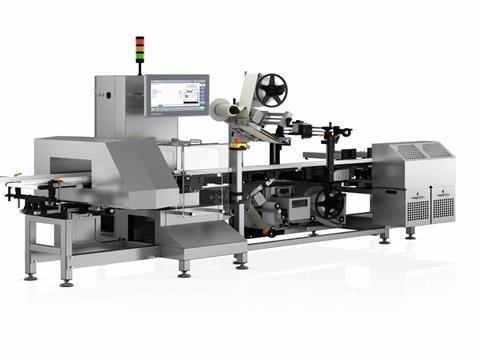 WIPOTEC-OCS will launch its 'most flexible quality control machine series to date' at Pack Expo Booth S-4172 later this year.
The new Traceable Quality System Modular Design (TQS-MD) is allegedly compatible with a variety of products thanks to its "building block" concept. Its basic setup prints designs (e.g. best before dates, batch codes or lot numbers) onto box packaging, then verifies and weighs the product on a one-meter footprint.
This new series of modular quality control machines are designed to be highly adaptable, combining relevant modules to tailor solutions around a product's shape, size and weight, as well as the user's desired throughput speed. The implementation of user interface purportedly allows the machines' operators to alter layout modifications, article setup and the products themselves with ease, as well as reducing the possibility of error.
According to WIPOTEC, product handling modules can also be adapted to a larger dimension, meaning the machines can handle larger boxes such as shipping cartons. Users can reportedly implement a track and trace module for the purposes of serialization.
WIPOTEC claims that the series retains the Electro-Magnetic Force Restoration (EMFR) weigh cells from previous designs, which is said to elicit precise results when weighing products. Other applications include inspection for metallic foreign bodies during the weighing and labelling processes.
The company also credit themselves with producing 85% of the machines' components, cutting down on delivery times and making the technology more accessible.
Last year's Pack Expo saw WIPOTEC introduce the 'next generation' of its Modular Multilane System – as well as the HC-A-V Checkweigher, which combined its signature weighing technology with visual inspection.