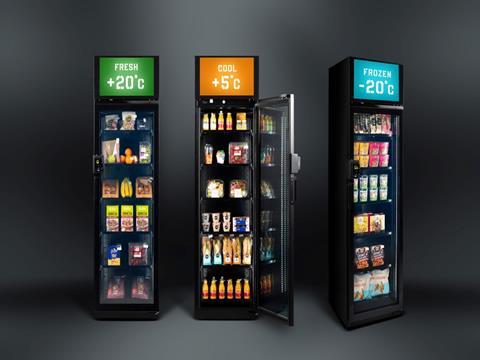 Stora Enso's Selfly Store has expanded its range of RFID-enabled micro-stores designed for automated, unmanned retail and on-the-go purchasing with three new intelligent cabinets.
The new range consists of three intelligent cabinets that Selfly says will enable hotels, workplaces, hospitals, sports centres, and other venues to offer meals and snacks in a cost-efficient format. According to the company, the micro-stores are unmanned 24/7 and fully digitalised, allowing consumers to shop when it is most convenient for them.
The company adds that the Selfly Store intelligent cabinets use RFID, sensors, cloud computing, and IoT technologies to enhance convenience for consumers. Selfly explains that RFID technology allows store managers to keep track of expiry dates and inventory in real-time, with the aim of reducing food waste.
The new range includes the Selfly Fresh, which is apparently designed for goods stored at room temperature. Meanwhile, the company says that the Selfly Cool is for refrigerated meals and snacks, and Selfly Frozen is for frozen items.
Aslak de Silva, CEO of Selfly Store, comments: "The global pandemic has highlighted the need for contactless solutions in retail.
"Unmanned retail enables cost-efficiency advantages, while at the same time offering a convenient and pleasant experience for consumers. Unlike old-fashioned vending machines, Selfly allows consumers to easily select multiple items in one go.
"When comparing food waste generated from vending machines selling fresh food items, we are seeing a reduction of roughly 13% when using Selfly Store. This brings cost savings as well as clear environmental benefits."
In addition, the Selfly Store platform is reportedly designed to allow for remote upgrade software. The company says that all the latest software developments are available for existing customers.
The new range of cabinets will be available from May 2022. Selfly notes that the new cabinets are designed and manufactured in Finland, and shipped in 100% recyclable and plastic-free shipping packages.