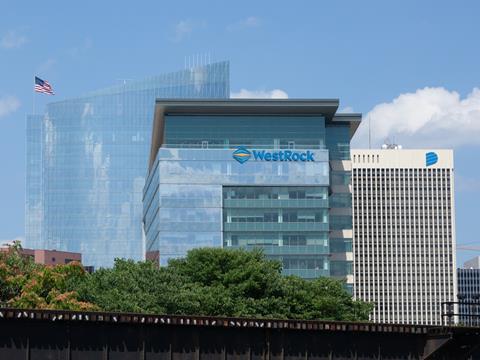 Following discussions last week around a potential merger, Smurfit Kappa and WestRock have confirmed an agreement to combine their businesses into a $20 billion company.
Both companies' Boards of Directors have now consented to the merger and are encouraging their shareholders to voice their own agreement, indicating financial benefits from their combination.
Irial Finan, Tony Smurfit, and Ken Bowles are named amongst the eight Smurfit Kappa Directors and six WestRock Directors that will form the Board of Smurfit WestRock.
With the combination scheduled to be completed in the second quarter of the 2024 calendar year – subject to customary closing conditions like shareholder and regulatory approvals – Smurfit WestRock's common stockholders will receive one new share and $5.00 in cash for each share of common stock.
Based on the last closing price before the merger's announcement – i.e., Smurfit Kappa's ordinary shares on 11th September 2023 – WestRock stockholders are set to receive a total consideration equivalent to $43.51 per WestRock Share. It also represents a combination of Smurfit Kappa and WestRock's equivalent enterprise value to adjusted EBITDA multiples.
One New Share will be received for each ordinary share in Smurfit Kappa. Shareholders and stockholders of the respective companies are anticipated to own a respective 50.4% and 49.6% of Smurfit WestRock, taking into account the number of outstanding shares on the day of the announcement.
As of 30th June 2023, the combined adjusted revenue and adjusted EBITDA over the last twelve months are set to reach respective approximates of $34 billion and $5.5 billion. On a pre-synergy basis, it is anticipated that Smurfit WestRock will achieve accretion in the upper single digits when compared to Smurfit Kappa's earnings per share.
Including run-rate synergies one full year after completion, accretion is expected to exceed 20%. In the same time frame, the companies are working towards annual pre-tax run-rate synergies of over $400 million. Their deliveries are thought to require around $235 million in one-off cash costs.
Smurfit WestRock's ordinary shares will be listed on the New York Stock Exchange, the companies say, at which point the merged organisation will pursue inclusion in the US equity index. Its ordinary shares will be listed on the standard segment of the UK Financial Conduct Authority's standard segment and admitted to trading on the London Stock Exchange's Main Market.
Meanwhile, Smurfit Kappa's ordinary shares will be withdrawn from the Official List of the FCA's premium segment and will no longer be admitted to trading on the Main Market. They will also be delisted from Euronext Dublin – instead, Smurfit WestRock will be domiciled in Ireland. Global headquarters will be established in Dublin, while Atlanta, Georgia will become the base for the company's North and South American operations.
A joint conference call will take place at 13:00 BST, or 08:00 ET, on 12th September 2023, in which both companies will discuss the transaction further.
If you liked this article, you might also enjoy:
The Lidl approach to packaging sustainability
How did Brazil achieve its 100% aluminium can recycling rate – and can it be replicated in the EU?
Experts have their say on the EU's Packaging and Packaging Waste Directive revisions
A deep dive into the most important packaging sustainability trends and solutions