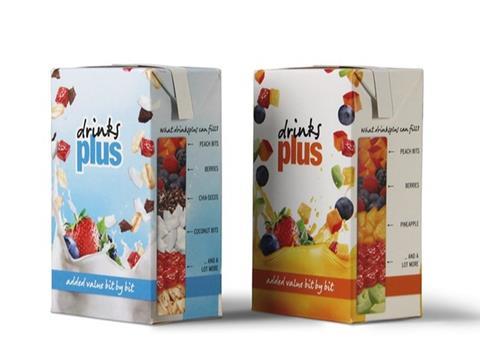 SIG announces that it will add three new straws to its existing portfolio with the aim of increasing the number of alternatives to single-use plastic (SUP) plastic straws available to beverage manufacturers.
Adding to its existing line, which includes a paper straight straw and paper U-straws for aseptic carton packs, SIG is set to launch a patented telescopic straw that it says is ideally suited to small carton packs with a diameter of 4.6 mm and an initial length of 102mm, which can be extended to 165mm once inserted into the carton.
Meanwhile, SIG's new U-straws will be available in 6mm and 7.6mm diameters, and are for drinksplus products with value added pieces of fruit, vegetables, or cereal grains, and reportedly ensure a smooth drinking experience. SIG says that the two new straws complement its existing 4mm paper U-straw, which was launched commercially by the Spanish milk brand, CAPSA Food, in April 2021.
The paper used to make SIG's paper straws apparently originates from FSC-certified forests. Additionally, the wraps for the straws remain attached to the carton pack to prevent littering, and can be disposed and recycled together, according to the company.
SIG claims that its paper straws can be used with all SIG carton packs that feature straw holes, which allegedly consist of 70-80% paperboard made from renewable wood sources. The company adds that the structure and diagonal cut of the straws make them robust enough to piece the closed straw hole of the carton pack.
The company says that its customers can use existing straw applications with a small modification to attach them to packs.
According to SIG, it was the first company to offer market-ready paper straw solutions for aseptic carton packs to align with the Single-Use Plastics Directive, which saw plastics straws banned across Europe from July 2021.
Zi Wang, product manager of straws at SIG, comments: "We are committed to collaborating with our customers, suppliers and other stakeholders to find new approaches to reducing single use plastics, while fostering recycling and minimising waste."