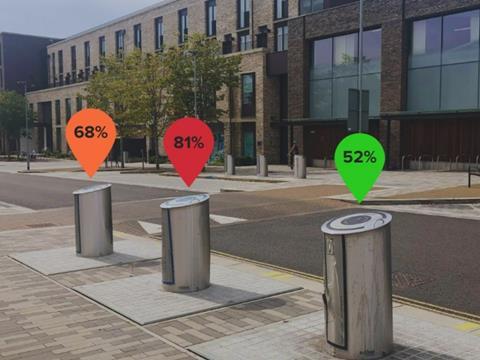 Sensoneo is implementing its smart waste monitoring solution in Madrid in what is expected to be the largest smart waste installation in Europe.
Over 11,000 sensors are set to be installed in bins dedicated to light packaging, textile, glass, organic, and general waste, and will be rolled out in collaboration with Candam as part of a waste collection service contract for the city with Valoriza, Acciona, and OHL Ingesan.
With installation set to begin in the first quarter of 2023, the data resulting from the sensors' use will be sent to Sensoneo's Smart Waste Management Software System and utilised in optimise route planning. It is hoped that the solution will facilitate more efficient waste collection, reducing the time spent on collection and saving money on fuel and costs.
It is also anticipated to reduce emissions, traffic, and noise in Madrid, corresponding with the city's aim to become a benchmark Smart City.
"Our smart waste solutions have helped cities, businesses and countries all over the world bring more efficiency into waste management while reducing environmental footprint," says Martin Basila, co-founder and CEO of Sensoneo. "Implementing smart waste technology on such a large scale is surely a milestone for both Sensoneo and the city of Madrid.
"I am happy more and more cities realize the importance of implementing technologies to improve the sustainability of waste services, and such a large smart waste installation will no doubt bring significant results."
"In Spain and Southern Europe as such, waste management has not started utilizing technology at a large scale," continues Benjamin Varese, international sales director at Candam, "and although many cities are aware of the importance of the digitization of the waste sector, none have been able to commit to a big project. With Madrid as the capital having the largest smart waste project in Europe, we expect other cities in the region to join."
The rollout follows a previous project in which Sensoneo previously deployed 4,500 sensors in Buenos Aires. The company also oversaw the implementation of a deposit return scheme in Slovakia – said to result in an average rate of over 2 million returns every day.
TerraCycle and Evreka also unveiled their own waste management technology last year, with TerraCycle's Material Recovery Facilities and current systems enhanced by the asset and operations management solutions offered by Evreka's software.