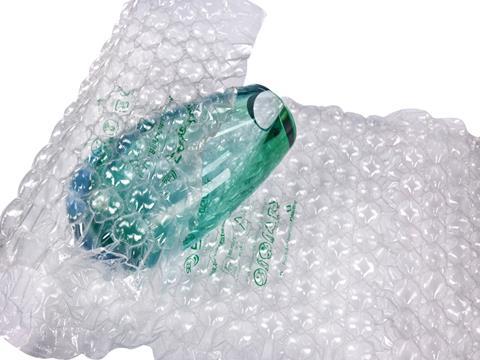 Sealed Air has announced a new range of protective packaging under its BUBBLE WRAP brand – aiming to guide companies towards the UK and European Plastic Pacts' target of 30% recycled content in all plastic packaging by 2025, amongst other sustainability targets.
The Fill-Air Extreme Efficiency Recycled Content Films claim to contain a minimum of 50% recycled plastic – 30% of which is said to have been sourced from post-consumer waste, the remaining 20% from post-industrial recycled content.
This 'ultra-thin', 12.7-micron film hopes to reduce the amount of material needed to package breakable products, while also optimising the retention of air to ensure that its protection lasts.
Meanwhile, the AirCap LRT and IB Recycled Content Films are reportedly produced using a minimum of 30% recycled plastic and are designed to be lightweight yet durable. The former will be sold in ready-inflated rolls, while the latter, alongside the Fill-Air Extreme Efficiency films, are designed to be inflated on-site at the will of operators.
Various bubble sizes are offered to customers in all three designs to provide flexibility, protecting products of various sizes and shapes. It hopes to be implemented into various supply chains, from omnichannel to e-commerce.
According to Eric Van Der Kallen, Platform Manager Protective Packaging Solutions Inflatables at Sealed Air, "BUBBLE WRAP brand inflatables have been evolving to help companies improve their sustainability. Thinner, lighter, stronger films increase product protection to reduce carbon emissions and waste associated with damage, whilst also lowering material usage.
"Utilising recycled content in the films is another step forward in advancing packaging sustainability. It provides operators with more opportunity to choose cushioning, wrapping and void fill solutions that meet the dual challenge of protecting products and satisfying the requirements of increasingly resourceful markets.
"The new inflatables are designed to be recycle-ready using local services, where available. Together with the use of recycled content, this reduces dependence on virgin resources and better fits with the goals of circular economies and customers keen to reduce environmental impact."
Green Dot Bioplastics recently expanded its Terratek BD line with nine supposedly compostable starch blend resins, which are said to be suitable for the production of bubble wrap and other protective packaging.
Sealed Air's food-grade shrink film, made of 30% post-consumer recycled flexible packaging collected from Tesco stores, was a finalist in the Sustainability Awards 2022.