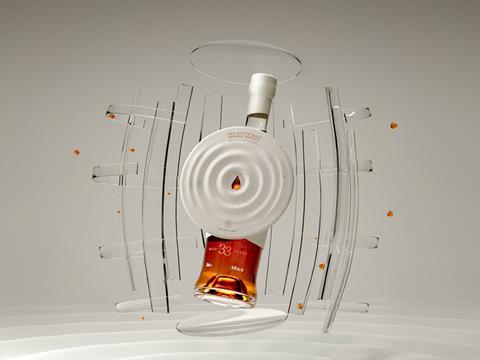 The Scotch Malt Whisky Society has unveiled a bespoke paper pulp sculpture infused with wood shavings from the original casks for a one-off bottle of whisky that is set to be auctioned off for charity.
The Scotch Malt Whisky Society, part of the Artisanal Spirits Company, curated a team of artists, thinkers and craftspeople with luxury, artisanal and sustainability credentials to deliver the project.
The creative concept was led by STCKMN in consultation with James Cropper and was handcrafted for the charity auction by Matter Agency.
The whisky itself was created on 25th September 1989, a spirit from a revered Speyside distillery (Scotch Malt Whisky Society distillery no 24) that was renowned for its use of sherry casks began maturing in an Oloroso sherry butt.
Thirty years later, on 7th May 2019, at the bequest of the spirits experts at The Scotch Malt Whisky Society, its contents were unconventionally divided equally between a first fill Oloroso hogshead and a first fill Pedro Ximénez hogshead. Three years later they were reunited to create one unique bottle, never to be repeated.
On the bottle, the liquid is represented by a ripple formation on the sculpture that's inspired by the unrepeatable pattern of water in nature, with a droplet portal allowing a glimpse of the whisky within.
This entirely one-off bottle and one-of-a-kind whisky was created exclusively for The Distillers One of One auction, which brings together a collection of rare Scotch whiskies from distilleries across Scotland. The proceeds from the purchase of this whisky will principally go to The Youth Action Fund, which aims to transform the lives of the most disadvantaged young people by helping them develop their confidence, resilience, and skills so they are ready for life and work.
Accompanying the traditional 700ml bottle will be a 100ml miniature to allow the buyer to sample the whisky. It shares the same design features as the main bottle, such as the hand-dipped wax neck and foil embellishments. It also includes a hand-bound stitched and copper-foiled paper book documenting the concept, the journey and tasting notes of this release.
If you liked this article, you might also enjoy:
The Lidl approach to packaging sustainability
How did Brazil achieve its 100% aluminium can recycling rate – and can it be replicated in the EU?
Experts have their say on the EU's Packaging and Packaging Waste Directive revisions
A deep dive into the most important packaging sustainability trends and solutions