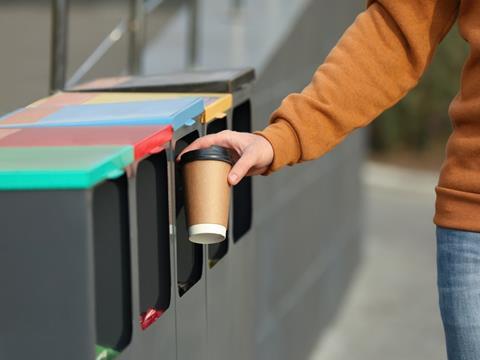 As part of its review of Ireland's Circular Economy Bill 2021, a cross-party Joint Committee on Environment & Climate Action has put forward the case for clearer, sector-based targets for the packaging industry and a greater focus on reduction alongside reuse that could mirror policies already in place in France.
In 2021, Ireland made a number of renewed commitments to achieving its goal of being a climate neutral economy by no later than 2050, including the Waste Action Plan for a Circular Economy (WAPCE) published in September.
The WAPCE includes plans to ban single-use items including cotton bud sticks, cutlery, plates, stirrers, chopsticks, straws, polystyrene containers and oxo-degradable plastic products from July 2021, as well as the target of "significantly reducing" the amount of single-use plastics being placed on the market by 2026.
For example, beverage producers will be prohibited from placing any single-use PET bottles up to 3 litres in size on the Irish market from January 2025 unless it contains a minimum of 25% recycled content. The legislation will tighten in January 2030, from which any SUP bottle up to 3 litres must contain 30% recycled plastic to be allowed on the Irish market.
By January 2023, producers of packaging will also be required to cover the costs of cleaning up litter associated with SUP items including food and beverage containers, packets, wrappers, and lightweight carrier bags.
The General Scheme of the Circular Economy Bill 2021 acknowledges the WAPCE as key legislation and outlines plans to give the Minister of Circular Economy Strategy the power to introduce levies and bans for certain items, such as single-use cups. Ireland's Joint Committee on Environment & Climate Action has since scrutinised the language used and targets outlined in these plans in its Report on the Pre-Legislative Scrutiny of the Circular Economy Bill 2021 submitted in December 2021.
The Committee says that some of the language used is "too vague", particularly in relation to the power of the Minister to introduce bans and levies. The suggestion, therefore, is to change the wording to make it a mandatory objective for the Minister and future governments to specify targets, not simply a discretionary suggestion. In addition, the Committee is in favour of adding single-use sachets or condiment containers, single-use hotel toiletries, and non-medical wipes to the list of single-use items to be banned.
Similarly, the Committee feels that a greater emphasis should be placed on reduction when defining Ireland's roadmap towards a circular economy, with a focus across the supply chain on minimising resource use and environmental impacts, alongside reuse and recycling.
Another issue identified by the Committee is the need to introduce and ensure accountability for sectors where the most improvements and thus benefits are possible, including packaging. Noting that packaging waste is greater per person in Ireland than in the rest of the EU, the industry is therefore highlighted as a key focus of the country's Circular Economy Bill.
The Committee acknowledges that while education for consumers is needed, the simplification of packaging at the level of the manufacturer could also be necessary and effective in boosting future recycling rates. This is supported by research suggesting that consumers seek convenience when engaging with reuse or recycling programmes such as deposit return schemes (DRS).
Another suggestion includes introducing reusable and refillable packaging options, with return and industrial cleaning schemes to be offered in catering and supermarket settings. Some supermarkets in England have begun trialling similar schemes, while France reportedly requires all supermarkets larger than 400 square metres to allocate 20% of flood space to reusable and refillable products. According to the Committee, it welcomes plans introduce a State-owed washing facility in Ireland as long as it is widely accessible.
The Committee appears to draw on further policy from France, which banned certain fruits and vegetables from being sold in plastic packaging earlier this month, and indicates that supermarkets should be required to encourage consumers to reduce packaging waste by providing loose fruit and vegetables at an equal or lesser price to pre-packaged bulk items.
On the topic of so-called biodegradable packaging, the Committee warns that these are often disposed of incorrectly, continue to contribute to a "disposable economy" model, and can be greenwashed by companies. Therefore, it emphasises the need for "strong leadership" to define and legislate viable reusable options for the Irish market.
The Committee also suggests that future revisions to the Circular Economy Bill should consider provisions to address the presence of 'forever chemicals' such as PFAS in food contact packaging, which are increasingly being linked to environmental and human health issues.
Overall, Ireland seems to be joining other European countries in tightening the parameters of accountability and legislation for the packaging industry – in a bid not only to reach national targets but to align with upcoming EU legislation.