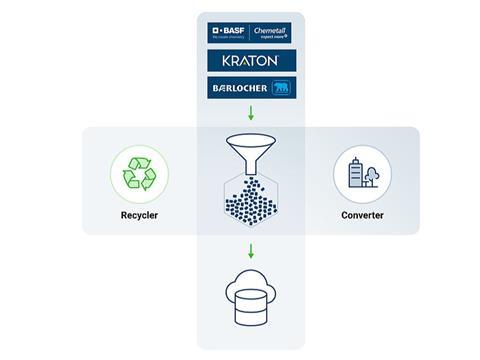 plastship has collaborated with Kraton, Chemetall and Baerlocher to provide a digital service that offers plastic convertors an overview of the interaction between recyclates and additives.
The Additive Selector tool is aimed at improving recyclate quality and performance through multiple reuse cycles, which plastship says is an important factor in increasing recyclate useage and enabling a circular economy in the future.
According to plastship, the portal can give producers, convertors, and users of recycled plastic a clearer indication of potential performance improvements through the use of additives.
Andreas Bastian, managing director of plastship, comments: "The new feature offers our customers a variety of additives to choose from that can improve the material performance for a selected recyclate and predicts the properties of the material-additive combination."
In addition, the company says all requests via the portal are handled by its additive partners, making it possible to contact specialists. This provides a customer engagement approach in order to meet specific end-use performance objectives.
Bastien adds: "By recombining business intelligence of two quite complex areas – additive effects and data on recycled plastics – and choosing a digital approach, the Additive Selector and the involved partners provide easy orientation for producers and users of plastics recyclates.
"The collaboration creates new opportunities for material streams, which might not fit a desired application until now, and enables improved recyclate quality and new recipes.
"In the future, the data-based approach help make opportunities visible, predict additive effects, and recommend solutions based on best practices and formerly solved challenges in recyclate quality for the benefit of the industry.
"We will also create validated performance enhancement data to feed the system, going from analysis to prediction, possibly with AI."
Kraton has contributed to the project with its CirKular+ product line, which allegedly enables plastics upcycling by facilitating compatibility and performance enhancement of versatile multi-resin post-consumer and post-industrial recycled plastic waste across various applications.
The Surface Treatment global business unit of BASF's Coatings division, operating under the Chemetall brand, will also offer integrated cleaning agents to optimise the quality, productivity, and safety of plastics recycling processes. Earlier this year, BASF launched the IrgaCycle additives range for mechanical recycling, which it says can increase the amount of recycled content in end products.
Meanwhile, Baerlocher adds that it will develop tailor-made solutions to support customers in delivering quality and sustainability initiatives to consumers.