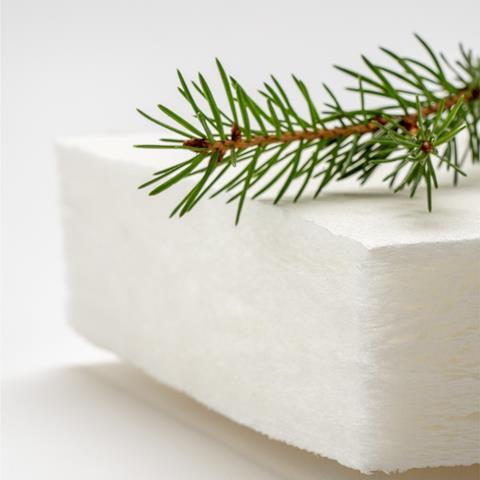 Stora Enso announces a new portfolio of what it claims are fully recyclable, bio-based foams made from wood, which can be used for protective and thermal packaging.
The new portfolio will include Fibrease, which is reportedly made with up to 98% renewable materials and designed to replace polyurethane (PU) foams and polystyrene, as well as formed in-place fossil-based solutions.
According to Stora Enso, Fibrease offers memory foam-like behaviour and can be fabricated using different foam cutting techniques and thermoforming. With a high insulating capacity, the company claims Fibrease is suitable for thermal packaging applications, including grocery sales and medical shipments, and adds that the foam is recyclable in paper and board streams after use.
Papira is the second packaging foam in Stora Enso's new portfolio, which is apparently bio-based and biodegradable. It is intended to offer a plastic-free alternative to polymeric foams such as polyethylene (PE), alongside PU and polystyrene, and can be fabricated using different foam cutting techniques and lamination.
In addition, the company says Papira is rigid but flexible, thus providing high protection against shock. It is allegedly suitable for protecting fragile, sensitive, and high-value consumer goods such as electronics and industrial appliances.
Stora Enso claims that its new lightweight, certified wood foams address the need for renewable and circular cushioning materials in inner packaging. It adds that fossil-based packaging contributes to pollution and accounts for 40% of the world's plastics – a challenge the company is seeking to address with its new portfolio.
Markus Mannström, EVP Biomaterials at Stora Enso, comments: "Consumers of today are pushing to minimise the use of plastic and maximise recyclability.
"At the same time, the need for packaging protection is increasing due to growing demands in e-commerce and cold-chain logistics.
"With our bio-based foams we help customers create eco-friendly and circular packaging solutions, while also meeting material performance needs to protect and insulate the goods."
Currently, Fibrease is commercially available, while the pilot plant for producing Papira has started operations at the company's site in Fors, Sweden, following an investment announced in August 2020. Stora Enso's new pilot plant aims to evaluate and validate Papira as a packaging foam in customer tests.