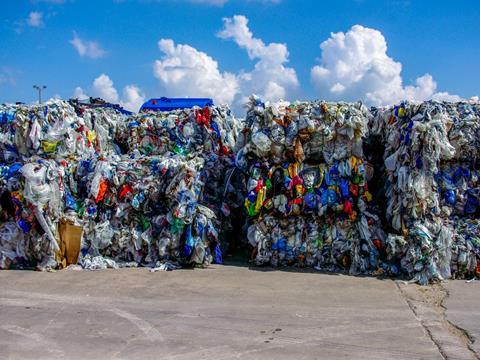 The Polyolefin Circular Economy Platform (PCEP) has updated its voluntary plastics pledge and will now aim to use 4M tonnes of recycled post-consumer polyolefin (PO) annually by 2025, after meeting its 3M target ahead of schedule in 2021.
In 2018, PCEP says it committed to "strong voluntary action" for the polyolefin value chain as part of the Circular Plastics Alliance and the European Commission's campaign to reach 10 million tonnes of recycled plastic in new products on the EU market by 2025.
According to the results of the PCEP 2021 Polyolefin Material Flow Study, the organisation has already reached its pledge to increase the amount of recycled post-consumer PO used in European products to 3M tonnes. As a result, PCEP has announced that it will upgrade its target to 4M tonnes annually by 2025, which would be double the amount used in 2016.
The PCEP General Assembly has also approved a voluntary commitment to increase the share of post-consumer PO recyclates to 30% of total PO use by 2030, building on the estimated figure of 10.5% in 2021. By 2030, the organisation is also aiming to recycle 60% of collected PO packaging waste and 50% of total PO waste, with the 2021 figures standing at around 28% and 35.4% respectively.
PCEP says that three key enabling conditions are needed to ensure the delivery of its pledges. The first is that all post-consumer PO waste should be collected along with other dry recyclable materials and sorted to standards that PCEP intends to help establish.
In addition, all PO products and packaging across the value chain should be designed according to PCEP's Design Principles, according to the organisation. This will reportedly maximise the potential use of recycled PO and promote the purest possible polymer streams.
The organisation adds that product specifiers, such as brand owner procurement departments, should make increasing recycled PO content in their product mix a strategic objective, which will apparently drive acceptance of material.
PCEP notes that European policymakers should provide support through EU legislation. The organisation claims that this should include recognising all forms of recycling as counting towards recycling rates and recycled content targets, as well as securing the full potential of plastics recycling by maintaining risk assessment as the decision-making basis.
According to PCEP, other EU measures should include dedicating resources to support the development and approval of technologies to enable recycled PO content in food contact applications without compromising food safety. The organisation says the EU should also implement the EU waste directives across all member states by 2025 and ensure legal frameworks encourage investment in recycling initiatives, with time allowed for investment to be translated into on-the-ground capacity.
Ton van der Giessen, interim Chair of the PCEP Steering Board, comments: "PCEP is all about action, not just words. Having achieved our target faster, by revising our pledge and our voluntary commitments we are demonstrating that PCEP is determined to be a major driving force in our industry's transformation to circularity."
PCEP concludes that it will review the industry's level of ambition every two years.