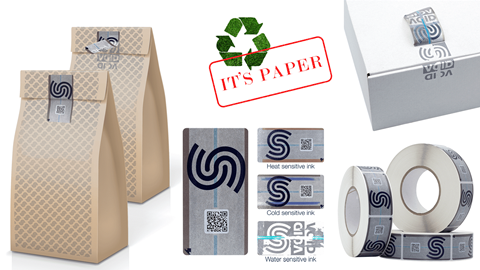 Securikett, a prominent AIPIA member, gained the top global accolade for its product line of security labels at the recent WorldStar Packaging Awards ceremony held at interpack in Dusseldorf. The World Packaging Organisation (WPO) announced the "IT'S PAPER" series from the Austrian security label manufacturer as the winner in the 'Labelling & Decoration' category of this year's competition.
Having first launched its paper labels in mid-2021, the portfolio of Securikett's tamper-evident security labels has expanded to include a wide range of ecologically sustainable security products from security adhesive tapes to translucent pharmaceutical seals and serialized labels.
The WorldStar Award is one of the most important global awards for packaging and has been presented by the WPO since 1970. The aim of this award is to recognize innovation and create awareness of the importance of packaging. Each year, winners are selected from more than 400 entries from over 30 countries around the world. The independent jury is made up of leading industry experts.
Participation in the World Star Award is open to the entire packaging industry for all products that have previously won in a recognized national or regional competition. The victory of the IT'S PAPER series in the "Security" category of the Green Packaging Star Award prepared the way for Securikett to win the WorldStar.
Vanessa Mitterer, head of research & development at Securikett, expressed her delight at being named a winner, "The awards we have received in recent months show that our intensive research work has paid off. With our PaperVOIDs, we have created an innovative and eco-friendly alternative to plastic labels that provides excellent tamper protection and can also be fully customized to any design."
This is already the third award for the Securikett IT'S PAPER series in the last 12 months. In addition to the WorldStar Award and the Green Packaging Star Award, the company also won the FINAT Sustainability Award 2022 with its product line in the "Converter small/medium" category.
This article was created in collaboration with AIPIA (the Active and Intelligent Packaging Industry Association). For a full update on active and intelligent packaging, come along to the AIPIA World Congress (co-organized by Packaging Europe) in Amsterdam on 14-15 November. The only smart packaging event covering the entire technology spectrum, the World Congress is a meeting place for the global active and intelligent packaging industry where brand owners, innovators, and other stakeholders can network and see and discuss the latest trends and innovations. Register to attend here.