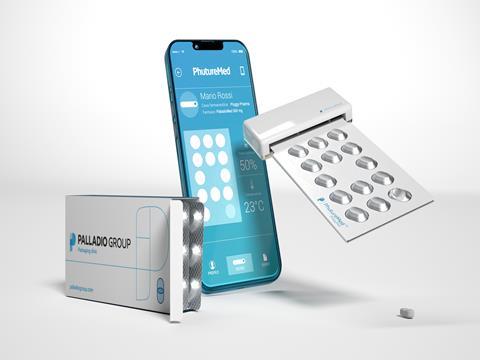 Palladio Group SpA unveils its new innovation programme, PhutureMed, which includes a smart blister pack developed to support patients in the monitoring of drug use and a solution that uses electronic ink to clarify information for clinical drug trials.
The PluggyMed blister pack – a key innovation from PhutureMed – was developed in collaboration with Omnys, a Vicenza-based software house. Designed for ease of use by customers, PluggyMed reportedly includes a smartphone application that can be downloaded to give patients an overview of their therapeutic programme and allow them to check the correct medication dosages.
Gabriele Molari, head of marketing and customer innovation at Palladio Group and coordinator of the PhutureMed programme, explains: "Through the printing of conductive inks, it allows the interaction between the drug's blister pack and a smart device in order to monitor the patient's compliance with the therapy.
"The information collected is then shared in a cloud platform that can be accessed not only by the patients themselves, via smartphone, but also by the various caregivers like the general practitioner or family members."
In addition, Palladio Group adds that the database generated by the application will also be shared with pharmaceutical companies.
Antonio Marchi, CEO of Palladio Group, comments: "This solution is a prototype developed as part of the 'PhutureMed' innovation program.
"The first of a series with which Palladio Group intends to create and guide a truly open innovation hub for drugs, involving not only customers and suppliers, but also employees, universities, start-ups, and research centres in the study of innovative solutions to face the changes taking place in the pharmaceutical world."
The company adds that it is also developing a concept to address the issue of inconsistent or varying information relating to drugs undergoing clinical testing, as well as offering enhanced traceability and anti-counterfeiting features – an ongoing challenge for the pharmaceutical industry.
According to Molari: "It is a solution that uses electronic ink (e-ink), which allows the remote modification of information, directly on the drug packaging, only by those who are authorized to do so.
"The idea is based on the concept of having a "fingerprint" containing a unique code printed on the drug packaging. The classic QR or Data Matrix codes are easier to counterfeit, which is why we propose to use an image, for example, a logo, which always appears the same to the human eye, but which actually has a unique code inside, which can be scanned through a specific smartphone app.
"In this way, the patient too can check if the product is original and receive increasingly customised information.'
Palladio Group will present these solutions from its PhutureMed programme at CPhI Worldwide in Fiera Milano, Milan, Italy, which will run from the 9th to the 11th of November 2021.