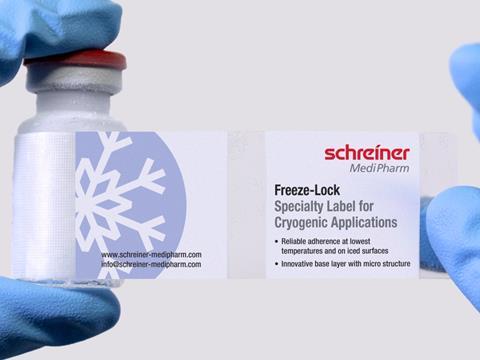 Schreiner MediPharm's Freeze-Lock cryo label features an interlocking layer solution offering adhesive strength and readability for the processing, storage, and transport of deep-frozen medicine containers.
The novel Free-Lock label by Schreiner MediPharm consists of two components: a bottom label and a top label.
According to the company, the bottom label layer has a speciality microfibre surface texture that can be applied to the empty, non-refrigerated container at room temperature. This container can then be filled with the active agreement, such as medications for cell and gene therapies, and immediately cooled down for storage in dry ice at -78oC or liquid nitrogen at -196oC.
When the container is removed from cold storage to be marked, the company says the top layer label can be dispensed onto it and firmly pressed against the bottom label without having to remove any potential layers of ice. The deep freeze adhesive of the top label apparently combines with the texture of the bottom label and freezes in a matter of seconds, which the company adds forms a permanent bond between the label construction and the container that allows it to be stored and transported in frozen conditions.
In addition, the two-component label design, as well as the materials and adhesives used, reportedly allows the Freeze-Lock cryo label to adhere to the frozen container without losing product information. Schreiner MediPharm says that pharmaceutical and biopharmaceutical manufacturers and clinical researchers will benefit from the customised making solution for frozen medications that can be adapted to a wide range of applications.
Last year, Schreiner MediPharm developed a new specialty label for infusion bottles with a combined label-integrated hanger and booklet solution that allows for comprehensive product descriptions in different languages to support international pharmaceutical trials.