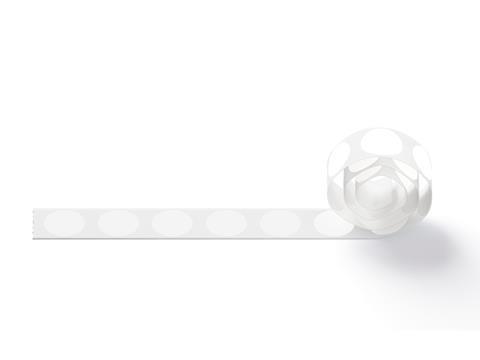 UPM Specialty Papers has unveiled its new 'LinerLoop compatible' certification to signify which release papers for self-adhesive labels and tapes are compatible with its commercial-scale, closed-loop recycling solution for silicone-coated release papers.
According to the company, around 50% of used release papers and matrix materials are recycled in Europe; however, only 15% are thought to be recycled back into release papers. Its new certification, which claims to adhere to the EU's regulatory targets for reducing waste, aims to close the loop on these materials and increase recycling rates.
In its latest position later, CELAB called for all producers and users of paper release liners to opt for white or lightly tinted paper release liners. This is to facilitate effective recycling, since darker-coloured glassine grades could contaminate the recycled pulp.
To bear the LinerLoop label, then, release liners must be white or light yellow, and the product must be free from cores, adhesive, and labels. They must be paper-based and siliconised – a requirement that excludes both plastic films and PE-coated papers.
The liners must also be registered as food-contact safe in its original end use according to BfR and FDA regulation, and must be reasonably collectable from UPM's recycling plant in Europe.
"UPM Specialty Papers wants to inspire the self-adhesive label and tapes industry to recycle release papers, both by boosting collection and by promoting products that are designed for recycling," says Jari Tamminen, director of Growth Projects at UPM Specialty Papers. "The new "LinerLoop compatible" label makes it easier for companies to identify release base papers that are designed for closed loop recycling."
Other recyclability-minded developments have come to light this year, including UPM Raflatac's new paper label materials for its wash-off SmartCircle portfolio, certified for recyclability in PET and HDPE bottle applications; and Bostik's wash-off, all-temperature label adhesive, certified as compatible with PET bottle label recycling by the Association of Plastic Recyclers.
Several of the Sustainability Awards 2023 finalists have been nominated for label-based innovations, from Avery Dennison's paper wash-off label for easy packaging reuse to CCL Label's low-temperature WashOff labels for rigid PET bottles.
If you liked this article, you might also enjoy:
McDonald's Director of Sustainability in Europe on the company's approach to packaging sustainability
McKinsey on whether or not on-pack sustainability claims affect consumer spending
Perspectives from industry-leading experts on the EU's Packaging and Packaging Waste Directive revisions
A deep dive into the most important packaging sustainability trends and solutions