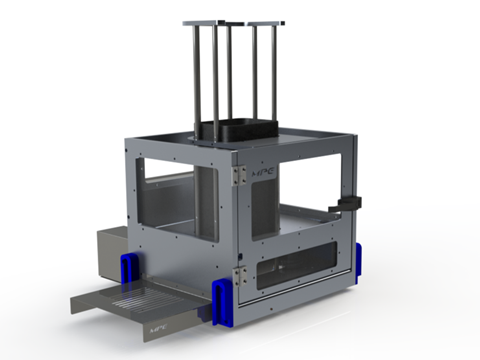 Tray and sandwich-sealing machinery company MPE UK Ltd is launching a new range of denesters that it says are compatible with nearly all types of packaging material and machinery.
According to MPE, denesters are a high-speed de-stacking solution for reducing manual intervention and increasing throughput with base materials such as card, plastic or foil. The firm says its denester is a compact model capable of integrating into production lines and denesting trays of different sizes and shapes with a five-minute magazine changeover.
Apparently, MPE denesters are built with food grade materials, can run large format trays including cardboard packs, reduce human error and can be bespoke to a customer's requirements. The company claims denesters have improved after-sales support for customers as the electronics can be monitored, updated and serviced remotely, working towards reducing a company's carbon footprint.
MPE's technical director John Hodgkiss explains: "Our new denesters provide food processors of all sizes with what they need to stay ahead of the packaging innovation curve. In an ever-changing marketplace it is crucial to keep pace with the latest manufacturing processes, including denesters at the start of the production line."
Various companies have announced new developments in 2022 seeking to improve quality, reduce human error and scale production through automation, such as Heidelberg's Speedmaster SX 102 printing press and Rockwell Automation's collaboration with Paboco to develop a manufacturing platform for the latter's paper-based products.