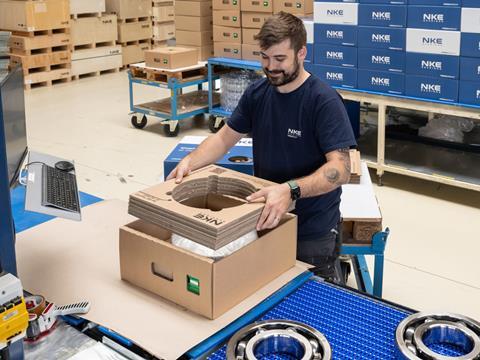 Mondi has partnered with NKE, a prominent manufacturer of bearing solutions for wind, railway and industrial applications, to create a new packaging solution for its wind power components.
With rolling bearings sold in over 80 countries, including the booming wind farm market in the United States, NKE faced mounting complaints due to transportation damage. A Hybrid bearing has a value of thousands of euros, weighs more than 20kg, and features inner and outer rings made of high-quality steel and ceramic balls. Damage often goes unnoticed until installation, resulting in costly delays in wind energy production.
In response, Mondi Grünburg's team of packaging advisers and product development specialists embarked on a mission to design a packaging solution that would aim to ensure optimal protection for NKE's bearings during transport. The innovative design incorporates one-way shock sensors, providing real-time feedback on the bearing's condition upon arrival.
The innovation was produced in three weeks, as Mondi Grünburg, traditionally known for working in the FMCG and food and beverage packaging sector, successfully ventured into the heavy-duty sector.
The result is an offset-printed box with an additional flexo print on the inside, providing clear usage instructions and simplifying handling as accompanying documents are no longer necessary.
The innovative design has already undergone testing and certification at Mondi's lab, a performance laboratory certified by The International Safe Transit Association (ISTA) to ensure that the customers' packaging is suitable for the product and protects it in their specific supply chain.
The design's performance earned it an award in the 'Wellpappe konstruktiv' category during the Forum Wellpappe Awards ceremony in Vienna on 5 October. This means that the pack also qualifies for the international WorldStar competition by the World Packaging Organisation.
If you liked this article, you might also enjoy:
The L'Oréal approach to packaging sustainability
What steps is Apple taking to make its packaging more sustainable?
How did Brazil achieve its 100% aluminium can recycling rate – and can it be replicated in the EU?
Experts have their say on the EU's Packaging and Packaging Waste Directive revisions