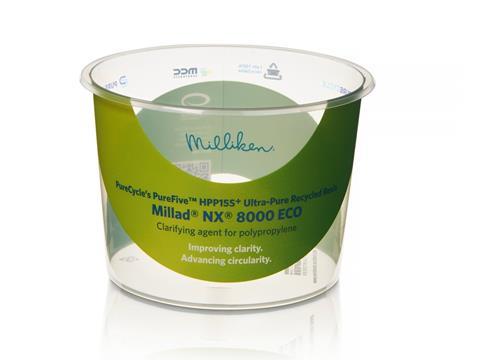 Milliken & Company has collaborated with PureCycle Technologies to create what is claimed to be the first fully sustainable concentrate for PP on the market, thought to have a 35% lower carbon footprint than virgin PP and enable customers to utilise higher amounts of recycled content.
Formulated using Milliken's Millad NX 8000 ECO clarifier and PureCycle materials, the development – based on a recycled resin carrier – is the result of a partnership between the companies that began in 2019. PureCycle's recycling technology, apparently developed and licensed by Procter & Gamble, supposedly separates PP waste feedstock by colour, odour, and other contaminants to produce a 'virgin-like', odorless, and high-clarity resin. As such, it is expected to be a favourable solution for PP converters.
Meanwhile, Milliken claims that its exclusive supply relationship with PureCycle, alongside broader research and development and scientific contributions, plays a crucial role in the utilisation of rPP.
According to Dustin Olson, chief executive officer of PureCycle, the concentrate is a 'no-compromise solution' designed to result in high-quality, low-carbon polypropylene resin that can be used in a variety of applications. Furthermore, he claims that the concentrate does not require customers to make adjustments to the colour, formulation, or general operations during the manufacturing process.
The concentrate is said to facilitate brand owners to display the UL Environmental Claim Validation label on injection-moulded parts.
An initial plant has been constructed in Ironton, Ohio, with PureCycle announcing that a second plant in Augusta, Georgia will be installed with two new lines. Partnerships are also being made with South Korea, it is claimed, and the company has plans to make similar connections with Japan.
"Our global growth is good for the planet and good for consumers," said Olson. "We have a special product that can change the world of recycling, and we are executing on our strategic plan to deliver this product to the world, because the world needs it."
"Sustainability is a key pillar and our focus as an organization," added Wim Van de Velde, global vice president of Plastics Additives at Milliken. "The concentrate we announced today is just the beginning.
"With our technical expertise, we will continue to innovate and bring in new technologies and sustainable solutions to enable our customers to grow. We know that continuing to work with PureCycle and supporting their solution can help the industry move towards where they need to be in the next 10 to 15 years."
Last year, Milliken commercialised DeltaFlow Viscosity Modifiers, solid concentrate pellets designed to increase the melt flow rate of rPP for extrusion and injection moulding processes. A previous partnership between Milliken, PureCycle and Nestlé resulted in plans to use chemical recycling to produce virgin-like resin.
PFF Group completed a full-scale production trial of NEXTLOOPP's PPristine post-consumer recycled PP resin this summer. It is expected to be implemented into injection moulded packaging when it is made commercially available.