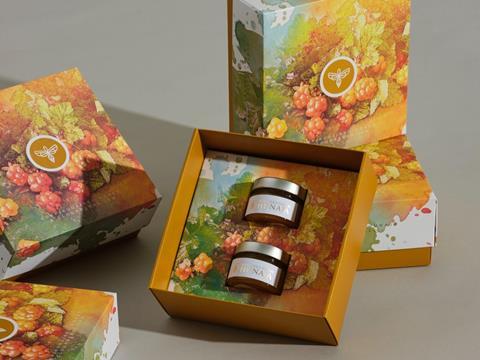 Metsä Board has unveiled a lightweight gift box solution for premium products made from micro-fluted corrugated board; it seeks to utilize less material and cut down the carbon footprint of traditional rigid boxes.
Micro-fluted board achieves this lighter, downsized effect with its smaller and lower flute size. It has been applied to the separate base and lid of the box, with uncoated or coated white kraft liner applicable as a surface liner; Metsä Board recommends the latter to unlock optimal printing properties.
'Significantly less' material is utilized in the micro-fluted concept – which, according to Metsä Board's Sustainability Services team, is up to 50% lighter than recycled fibre-based rigid box solutions. Its cradle-to-gate carbon footprint is also said to be 59% lower than traditional alternatives.
The new box is designed to be production-efficient and compatible with mass production on existing lines without the need for major retooling. It is applicable to cosmetics, chocolate, beverages, and other premium products.
"We were looking to provide the same experience by remodeling a box that was strong and rigid but lighter and with a smaller environmental impact," says Ilkka Harju, Packaging Services director at Metsä Board.
"Cosmetics are probably the number one application area, but the material can be customised very easily to create unique packaging solutions.
"Thanks to its lightness, the new packaging solution can help our customers reach their carbon reduction targets.
"Since no harmful adhesives or other plastic laminates are used in the packaging solution the recycling becomes much more efficient."
In another development, Metsä Group dedicated its folding boxboard and Muoto 3D inner fibre packaging to a collaboratively developed design for a new gift pack containing Fiskars Group's ReNew scissors.
Metsä Board also reports the development of the world's lightest pizza box with a lightweight paperboard substrate. This is thought to cut down on packaging weight, carbon emissions, and both material and printing ink usage.
If you liked this article, you might also enjoy:
The L'Oréal approach to packaging sustainability
What steps is Apple taking to make its packaging more sustainable?
How did Brazil achieve its 100% aluminium can recycling rate – and can it be replicated in the EU?
Experts have their say on the EU's Packaging and Packaging Waste Directive revisions
Also, if you're interested in packaging sustainability, you will want to attend our Sustainable Packaging Summit in Amsterdam on 14-15 November. The Summit brings together leaders and pioneers from across the industry to align strategically, learn, network, and create a critical mass to accelerate change. You can learn more by clicking here, and you can buy a ticket to attend here.