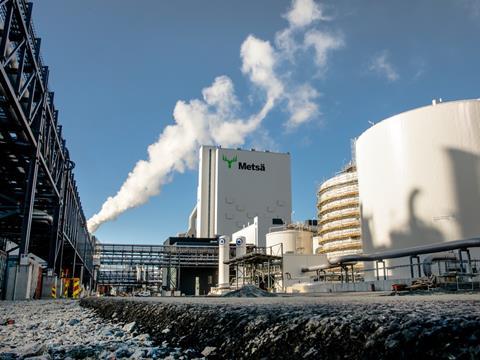 Operations have commenced at Metsä Group's Kemi bioproduct mill and paperboard mill expansion, with pulp deliveries to customers also beginning this month.
Apparently, the mill produces 1.5 million tonnes of softwood and hardwood every year and uses zero fossil fuels. It claims to use all raw material and production side streams as bioproducts or bioenergy – for instance, by producing tall oil and turpentine – and aspires to become completely waste-free by 2030.
It is said to produce two terawatt hours of renewable electricity every year, which reportedly equates to the annual consumption of 100,000 electrically heated single-family homes. Additionally, it accounts for 1.5% of Finland's total electricity production, the company says.
It adds that, even though production capacity has increased, the mill's emissions are lower than the limits specified in the currently valid environmental permit for the closed Kemi pulp mill due to its 'efficient' chemical cycles and other solutions.
The mill expects to increase its wood use by 4.5 million cubic metres compared to the old mill, reaching 7.6 million cubic metres. This is set to be based on regenerative forestry and hopes to oversee improvement in the natural landscape by 2030.
Where white top kraftliner is concerned, Metsä Group credits the modernization and bottleneck investments in the paperboard mill for increasing annual production capacity by around 40,000 tonnes to 465,000 tonnes – thus hoping to strengthen the mill's position on a global scale.
Integrating the bioproduct and paperboard mills and updating the latter's production line is also said to improve water and energy efficiency, with investments resulting in 40% less water and 5% less energy being consumed per tonne of paperboard produced.
Approximately €7 billion completed, ongoing, and planned investments have been dedicated to the project since 2015, with the company aiming to play its part in mitigating climate change, fulfilling its own and its customers' sustainability targets, while meeting the needs of forest owners and customers across the value chain.
"Metsä Group's products replace fossil materials in people's daily lives," says president and CEO Ilkka Hämälä. "Pulp and paperboard are used as raw materials for numerous consumer goods, and we are able to produce them in Kemi with considerably lower emissions.
"Finland needs sustainable investment that creates employment, income, and a strong belief in the future."
In other news, Smurfit Kappa is investing €27 million into a new waste management and recovery facility at its Nervión paper mill, with a lime kiln and gas treatment system expected to divert 75,000 tonnes of waste from landfill.
Its latest Sustainable Development Report has also underlined a 43.9% reduction in CO2 emissions since 2005, which is believed to keep it on track to reach its zero emissions target by 2050.
If you liked this article, you might also enjoy:
The L'Oréal approach to packaging sustainability
What steps is Apple taking to make its packaging more sustainable?
How did Brazil achieve its 100% aluminium can recycling rate – and can it be replicated in the EU?
Experts have their say on the EU's Packaging and Packaging Waste Directive revisions