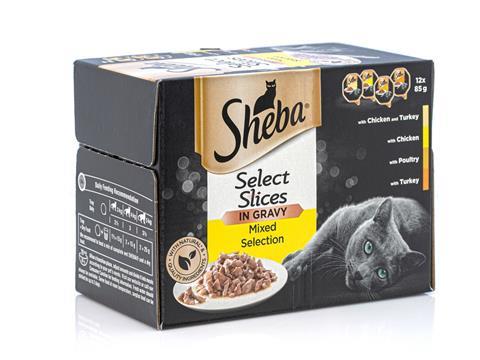 Mars Petcare has announced plans to begin distributing its SHEBA petfood in pouches containing recycled plastic from advanced recycling processes, with the rollout expected to begin in Europe in 2022.
The change is a result of Mars Petcare's partnership with SABIC and Huhtamaki to make ISCC PLUS certified recycled plastic available from advanced recycling. The combination of SABIC's TRUCIRCLE polymer portfolio and Huhtamaki's innovation for easy tear, sterilizable polypropylene (PP) films has reportedly enabled the development of a pouch suitable for direct wet food contact.
In addition, Mars Petcare says that further innovations in advanced recycling will allow it to offer a circular solution for flexible plastic packaging waste and allow food contact recycled plastic packaging solutions across the industry. At present, the company claims it is the first company to deploy food grade recycled plastic as part of its wet petfood packaging.
Barry Parkin, chief procurement and sustainability officer at Mars, Incorporated, comments: "Over the past year, we have been closely working with SABIC and Huhtamaki, continually testing-and-learning and scaling up the recycled plastic content in our petfood packs.
"As part of our Sustainable in a Generation plan, we are committed to doing our part to help drive a circular economy, which includes redesigning our packages for circularity.
"The fact that we are now able to introduce recycled content into our SHEBA pouches helps accelerate our journey to achieve 30% average recycled content in our plastic packaging and to reduce by 25% our use of virgin plastic."
Marco Hilty, president of Huhtamaki's Flexible Packaging business segment, adds: "Successfully processing recycled polymers into high-quality, easy tear films for wet retort packaging at an industrial scale is a significant milestone in delivering on our ambition to have more than 80% of our raw materials renewable or recycled."
While Mars Petcare says that its SHEBA aluminium trays, cans, and cardboards sleeve can be commonly recycled in key markets, it adds that the new pouch with recycled content offers more innovations for the design and deployment of recyclable and circular petfood packaging.
This year, Mars Petcare announced that its Royal Canin brand will simplify the design and structure of its dry pet food bags by piloting a flexible monomaterial plastic packaging in some European countries, which will apparently be recyclable where the infrastructure is in place to facilitate this. Meanwhile, in the UK, the company began replacing shrink-film with cardboard across its multipack pet food range, including Pedigree and Whiskas, from September 2021, in a bid to remove 180 tonnes of plastic from the environment annually.