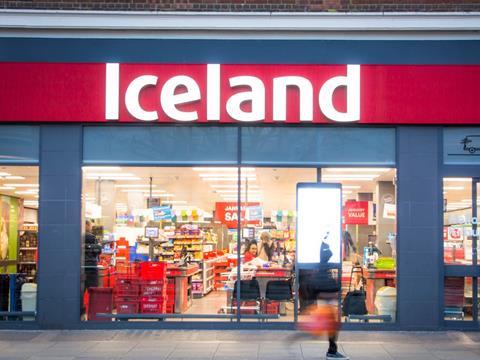 Iceland has today announced plans to work with Seven Clean Seas to offset its plastic footprint by recovering and recycling nature-bound waste plastic in an equivalent weight to its 2022 plastic usage, in a bid to become the first 'plastic neutral' supermarket in the UK.
In 2018, Iceland was the first major UK retailer to commit to eliminating plastic packaging from all of its own brand products, setting its deadline as the end of 2023. As part of this initiative, Iceland released nine new product lines earlier this month, which it claims are plastic-free or have heavily reduced plastic content.
Iceland's previous measures were taken in accordance with its waste hierarchy – with 'reduction' reportedly being the retailer's priority. Its 'plastic neutral' ambition is aimed at its remaining plastic footprint after these initiatives and, according to Iceland, represents its "radical" response to the UN Global Assessment of Marine Litter and Plastic Pollution, which was released in October 2021. The report posits several troubling findings, including that the emission of plastic waste into aquatic ecosystems could almost triple by 2040, potentially with serious consequences for marine life, human health and well-being, and the global economy.
Partnering with Iceland on the project, Seven Clear Seas is a Singapore-based organisation involved in reducing and clearing plastic pollution from the world's oceans. The organisation will reportedly design a bespoke, multi-project programme for Iceland supermarkets to achieve so-called plastic neutrality, with a focus on recovery and, where possible, recycling.
Currently, Seven Clear Seas has projects in Thailand and is planning to expand its operations to Vietnam. Most of its work – including that which it will undertake on behalf of Iceland – is based on community and municipal collections, and environmental interception. The organisation's existing plastic offsetting mechanism appears to be based on companies buying credits that correspond with plastic usage, with one credit representing 1,000 kg of plastic.
According to the organisation's website, its preferred waste management solution for recovered plastics is mechanical recycling, followed by chemical recycling and then waste-to-energy applications. Seven Clean Seas is aiming to be operational in the top seven plastic emitting countries by 2025, which it claims are all located in South East and South Asia.
Richard Walker, managing director of Iceland, comments: "The UN Global Assessment of Marine Litter and Plastic Pollution is stark – plastic pollution is out of control and a major threat ecologically, to our climate and to human health.
"We are committed on our journey to become plastic-free across our own label range, but we need to do more than that and we need to do it immediately.
"We all know that, in the long term, the industry cannot recycle or offset its way out of the plastic crisis and, while we remain firmly fixed on plastic reduction, this is another important milestone in our journey to becoming plastic-free."
Other forms of offsetting, such as carbon, have also been used by companies attempting to 'cancel out' carbon emissions that they claim are unavoidable or cannot be reduced fully. Carbon offsetting has drawn some criticism for potentially overpromising the amount of carbon emissions that can be offset, thus greenwashing the operations of some companies, and there is currently no standardised pricing and accountability.
There appear to be similar challenges facing the emerging plastic offsetting industry. Walker is calling for a certification system to be introduced for nature-bound plastic recovery and offsetting, in order to allow more businesses to react immediately to the findings of the UNEP report.
Walker adds: "We want to see a standardised international system of accounting and crediting to ensure the future integrity of nature-bound plastic recovery and offsetting.
"We recognise its value as part of a robust business plan to reduce plastic, and the great work undertaken by the Science Based Targets initiative (SBTi) across carbon shows what can be achieved by the creation of standardised independently verifiable frameworks."
Going forward, Iceland emphasises plans to remain transparent about its plastic packaging consumption to lend credibility to its commitments, having published its total packaging footprint in 2019 – claiming to be the first UK retailer to do so. In this report, Iceland outlined its primary plastic packaging footprint in 2019 as 19,993 tonnes for branded items and 9,206 tonnes for own label items.
In line with the retailer's transparency commitments, Walker notes that Iceland may not be able to achieve its target of being plastic free by the end of 2023, citing delays due to the COVID-19 pandemic and a lack of commercial and scalable innovations. So far, the company has allegedly recorded a 29% overall reduction in packaging across its own label range since 2017, with 3,794 tonnes of plastic having been removed completely to date.
Both Iceland and Seven Clean Seas urge other supermarkets in the UK to take on similar commitments to being 'plastic neutral'.
Thomas Peacock-Nazil, chief executive and founder of Seven Clean Seas, concludes: "Our partnership with Iceland comes at a pivotal time for ocean pollution and the action they are taking reflects the urgency of the situation.
"We are hopeful that it will prompt other retail brands to minimise their plastic footprints and take a more conscientious approach to managing their plastic consumption."