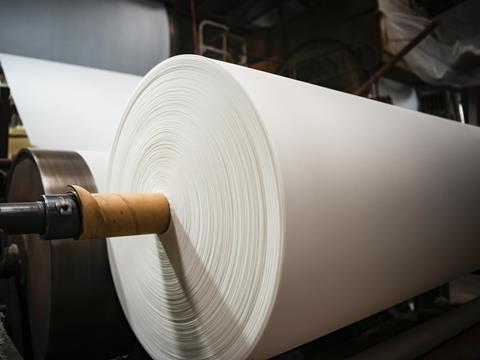 Cepi has cast its eye over the efforts of pulp and paper industry players to drive down carbon emissions, including the decarbonization or complete removal of heating processes during production.
Apparently, the pulp and paper sector has worked towards the decoupling of growth and CO2 emissions for decades, but it is nevertheless energy-intensive. With collaboration between industry players currently driving technological progress, various breakthroughs are expected to lower its energy requirements by as much as 80%, and Cepi forecasts a 'formidable potential' to install renewable energy directly on-site.
Cepi leads the Energy Efficiency Solutions Forum (EESF), a network of technology suppliers and experts in research, financing, and policymaking, as well as European engineers for companies and suppliers. The EESF's goal is to develop and implement technologies that can reduce emissions, spot roadblocks in the journey to scaling them up, and create a regulatory environment that can support them.
Previous work undertaken by the EESF includes its collaboration with the European Heat Pump Association (EHPA) to integrate heat pumps into European paper mills – a move expected to provide around half of the energy required for heat and simultaneously lower CO2 emissions.
A recent study by Cepi has also suggested that 30% of electricity and nearly 6% of heat generated on-site could come from solar or wind energy by 2030. Even so, the confederation emphasizes its belief that manufacturers must lower their own energy requirements to make the most significant progress in lowering emissions.
While superheated steam technology could bring large, closed-circuit heat pumps to paper mills, novel drying systems could negate the need for heat and evaporation when removing water from the web paper web, and waterless paper production would render heat application unnecessary in the first place. Cepi does not definitely predict which will become the 'game changer' in the industry but identifies the potential of all three.
Around 70% of energy needs in a paper mill can apparently be attributed to the heating process, and several European consortia are also investigating potential energy efficiency solutions that achieve higher 'decarbonization per euro spent' without sacrificing the necessary amount of heat to dry paper.
Modellfabrik Papier is a 'model factory' designed to bring together researchers and academics in pursuit of climate-neutral paper production by 2045. Cepi and its German counterpart, DIE PAPIERINDUSTRIE, are amongst the twenty-four companies and seven research centres supporting the project.
Meanwhile, the VTT Technical Research Centre of Finland is working on Energy 1st – Fibre products forming, a mission-based research programme involving over 40 companies. It will make use of a 'dry forming' process in a pilot infrastructure.
Additionally, Cepi notes that pulp and paper manufacturing makes 'substantial' annual investments into sustainability-minded progress for its production processes when compared to other sectors. Evaluating the business case for a new technology is highlighted as an important step due to the potential for 'near misses'.
For instance, another study aimed to decarbonize pulp production at its source with 'deep eutectic solvents'. While it did not achieve the expected results, it is said to have provided valuable insight into the production of lignin as an alternative to fossil-based materials, which could become beneficial to the industry as a future source of revenue.
On the other hand, a recent report from Bain & Co warned of stalling progress in the paper and packaging industry's carbon reduction efforts. Over 30% of companies that have verified or committed to science-based targets have reportedly missed their near-term Scope 1 and 2 targets and 41% have missed their Scope 3 targets.
Cepi also criticised the European Parliament's upcoming 'Fit for 55' legislation, which aspires to cut the EU's CO2 emissions by 55% until 2030 – more specifically, its contradictory legal positions surrounding carbon capture and biomass, which is feared to undermine existing decarbonisation initiatives and bioeconomy development.
If you liked this article, you might also enjoy:
The L'Oréal approach to packaging sustainability
What steps is Apple taking to make its packaging more sustainable?
How did Brazil achieve its 100% aluminium can recycling rate – and can it be replicated in the EU?
Experts have their say on the EU's Packaging and Packaging Waste Directive revisions