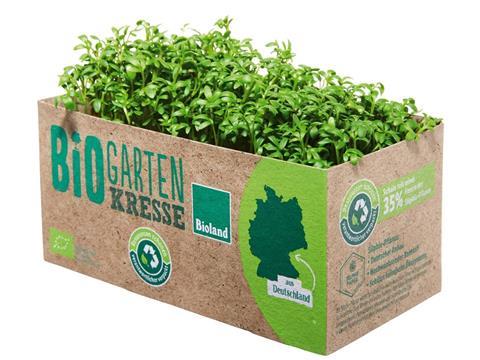 STI Group has worked with PreZero, the environmental division of Schwarz Group, to develop a sustainable packaging solution made with locally grown silphie plant fibre, which it will supply to the supermarket chains Lidl and Kaufland.
According to the STI Group, silphie material is suitable for direct food contact and a key fibre for enabling reduced waste packaging. It adds that further research into coatings could enhance its barrier properties against water and fats.
Jakob Rinninger, CEO of STI Group, says: "Through a development partnership with OutNature, our in-house materials lab has been exploring the technical properties of silphie material since late 2020.
"Pioneering tests have examined every facet of its production performance, from printability and varnishability to laminating and die-cutting.
"Silphie material has proven itself and can now be used in cardboard or corrugated board format for making packaging and displays."
Both Lidl and Kaufland will roll out the silphie packaging solution for fruits and vegetables, starting with cress. Organic cress in silphia packaging has been available in Lidl stores since Monday 8th November, initially in Southern Germany.
Kaufland will introduce the silphie range "shortly", with plans to expand the packaging to include organic tomatoes, apples, and mushrooms. The supermarket chain has already introduced packaging-free sections in its supermarkets, where customers can buy dry food items such as pasta and rice.
Earlier this year, VPF GmbH & Co. KG announced that it would expand its portfolio with a similar innovation: a self-adhesive material made with silphie fibre – which, for a number of years, has been cultivated in Germany for use in energy production and the creation of biogas – and conventional pulp-based paper.