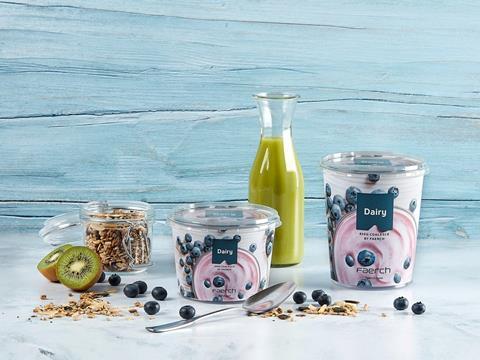 Faerch, a leading supplier of rigid food packaging, has announced that it will acquire PACCOR Packaging from the private equity firm Lindsay Goldberg as part of its plans to expand sustainable food packaging strategies.
Faerch says that the acquisition of PACCOR is part of its plans to create circular solutions for food packaging and will accelerate the required material conversion for the European dairy sector, which it adds is the largest segment in rigid food packaging.
Founded in 2011 after a merger of several packaging companies and active in 18 countries, PACCOR is a provider of protective packaging for the dairy sector and has previously delivered "state-of-the-art solutions" for yoghurt, spreads, and ice cream packaging.
According to Andreas Schütte, CEO of PACCOR: "Faerch's unique integrated recycling capabilities offer fully new opportunities to accelerate the transition towards circular packaging solutions, while combining the two companies' dedication to innovation and investments in R&D."
Lars Gade Hansen, CEO of Faerch Group, says: "With PACCOR becoming part of Faerch, the industry's transition towards circularity will gain additional momentum for food packaging being recycled back into new food packaging of the same quality again and again.
"With PACCOR's leading position in the dairy sector, Faerch will be present in all major food packaging segments, allowing the much needed standardisation away from non-recyclable legacy materials towards truly circular packaging solutions.
"A comprehensive investment programme for supporting material conversion and scaling our recycling platform will be launched."
The acquisition reportedly comprises 16 production sites in Europe, Asia, and the US, and more than 3,400 employees. However, the PACCOR UK business and its two production sites are not part of the transaction and will remain with Lindsay Goldberg.
Hansen adds: "With PACCOR's strong position in the dairy sector, our complementary geographical footprints and our shared ambition to make food packaging circular, PACCOR is the perfect match for Faerch."
When the transaction is complete, Faerch Group will incorporate 34 sites and employ almost 6,000 people globally. The transaction remains subject to customary closing conditions and regulatory approval.
Last year, Faerch implemented third-party audited statements on the recycled contents in its PET food packaging products in a bid to offer consumers maximum transparency. As part of its circularity commitments for the food industry, the company also collaborated with Tesco on a closed loop recycling solution for the retailer's PET trays.