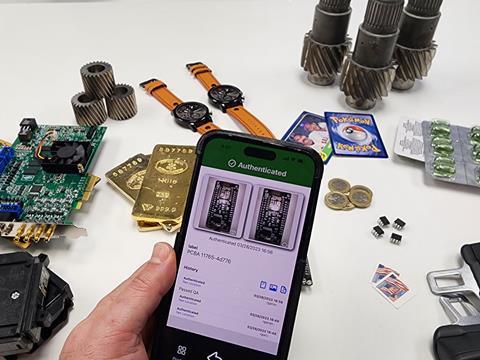 Alitheon, a new AIPIA member based in Bellevue, Washington, has introduced a patented system called FeaturePrint with an optical-AI that detects the authenticity of an item by irrefutably identifying each original.
It provides a proven, simple and reliable solution to eliminate counterfeits, shut down grey market activity and enable tracking and tracing, all with one photo using a standard camera, it claims. Alitheon's ability to simplify this complex task, applies to car parts, computer chips, gold bars, artwork, pharma, documents, and many other physical objects, including, of course, packaging.
Think fingerprints and irises, the company says. These are inherently part of the human body, cannot be lost, given away or copied, and can be used as unique and irrefutable identifiers of people.
What if you had a biometric for items, asks Alitheon. You could track and trace, identify and authenticate any and all of your parts, products and packages. No need for barcodes, QR codes, stickers, tags, ''invisible' dust, markers, holograms, proprietary ink, special cameras or special lighting. "Welcome FeaturePrint®," says Roei Ganzarski, CEO of the company.
The technology can mistakenly be categorized with other kinds of tracing, authentication and identification methods. However, many of these approaches offer a fraction of FeaturePrint's capability and are outdated, says the company.
"Solutions that require some sort of mark or another additive on an item, such as serial number, barcode or tags, be it visible or invisible, have two risks," Ganzarski comments. "First, they can be damaged, fall off, or intentionally moved. Additionally, they themselves can be faked. Second, they can require special equipment to be applied, used and read. FeaturePrint uses the item as its own marking, needing nothing more than a photo, thus eliminating these issues," he adds.
Other machine vision solutions that also use only a photo, mostly use machine learning to identify fake items. These solutions are limited in the level of precision and accuracy and thus restricted to class type and cannot be effectively used for individual traceability or combating gray market items, , according to Alitheon. FeaturePrint is item agnostic and doesn't need to "learn" new objects.
With this system, companies can irrefutably identify, authenticate, track and trace items and parts, from manufacture, through the supply chain and installation and all the way to after-sales service and beyond, simply by taking a photo of the item with a simple industrial camera or mobile phone.
Alitheon's current focus is industrial manufacturing, supply chains, and high-value and safety consequence goods such as pharmaceuticals; industrial electronics; and high-value consumer goods. It is already helping customers eliminate counterfeiting with over 99.85% first-time accuracy and zero false positives, it claims.
The system has built-in tolerances for degradation, wear-and-tear and damage, so it continues to function between registrations and authentications over time. This provides greater accuracy, it believes, and enables fast, continuous monitoring as items change during manufacturing, assembly or operational use.
How FeaturePrint works in three basic steps:
Step 1: Take an initial registration photo (using off-the-shelf industrial cameras or mobile phones).
Step 2: FeaturePrint identifies thousands of item-unique identifiers and uses that to uniquely characterize and serialize the item. The digital fingerprint is automatically created.
Step 3: At any moment, anywhere, anyone in the value chain can identify, authenticate and trace the item by taking another photo. Do so as many times as desired.
This article was created in collaboration with AIPIA (the Active and Intelligent Packaging Industry Association). For a full update on active and intelligent packaging, come along to the AIPIA World Congress (co-organized by Packaging Europe) in Amsterdam on 14-15 November. The only smart packaging event covering the entire technology spectrum, the World Congress is a meeting place for the global active and intelligent packaging industry where brand owners, innovators, and other stakeholders can network and see and discuss the latest trends and innovations. Register to attend here.