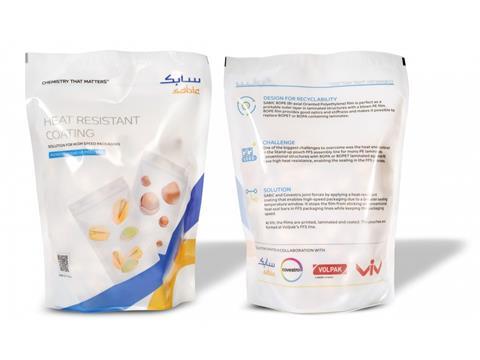 Covestro has partnered with SABIC to develop a heat-resistant BOPE coating for mono-PE stand-up pouches – a development hoped to further enable single-stream recycling for flexible plastic pouches.
Made with SABIC BOPE polymer, the new design seeks to replace traditional multi-material laminates – which are considered difficult, expensive, and time-consuming to recycle – with a more efficient alternative. BOPE can reportedly be used to ensure that all the layers in a flexible packaging design are manufactured from PE polymer grades, meaning they can all be recycled in the same stream.
Covestro's heat-resistant coating is said to combat the low heat resistance of BOPE pouches when compared with laminates containing PE or PA, allowing the new design to be manufactured on high-speed form-fill-seal lines without sacrificing the visual or functional quality of the packaging. The sealing stage of the form-fill-seal process apparently prevents heat seal bars from sticking to the coating, which results in a broader sealing temperature window and the reduction of wrinkling and shrinkage, according to the company.
"Thanks to this heat-resistant coating solution for flexible packaging, manufacturers can meet challenges in processing, without compromising on the properties and machinability of the packaging," says Roel Beckers, sales manager at Covestro. "It allows a faster switch to mono-PE solutions and the use of the BOPE material as we work with global value chain partners who share our mindset of contributing to a more circular plastics economy."
It is hoped that the new coating will be commercialised in the future and facilitate the industrial-scale production of BOPE-based mono-material stand-up pouches on horizontal form-fill-seal lines.
"We take our responsibility to create lower-impact packaging seriously," says Davide Reverdito Bove, sector marketing manager at Covestro. "Our circular economy strategy focuses on recyclable solutions that unlock pathways toward closing the loop on materials.
"In SABIC, we found an expert partner. This close collaboration will enable us to accelerate the engineering and testing process of our new heat-resistant coating for BOPE with clear benefits for the product quality, the customer, and the planet."
A recent report on mono-material packaging by PreScouter identified coatings as a particular challenge for the flexible packaging sector, stating that silica/aluminium oxide, clay, and polyurethane-based solutions are being developed as more easily-recycled alternatives to polymer resins.
Toppan's mono-material PE barrier range, GL BARRIER, is set to package liquid products and provide both boiling sterilisation and increased drop strength.
In another sector, PPG announced a new development in its acrylic internal spray coating line-up for aluminium beverage cans, this one free of bisphenol-A or bisphenol starting substances and offering enhanced application qualities.