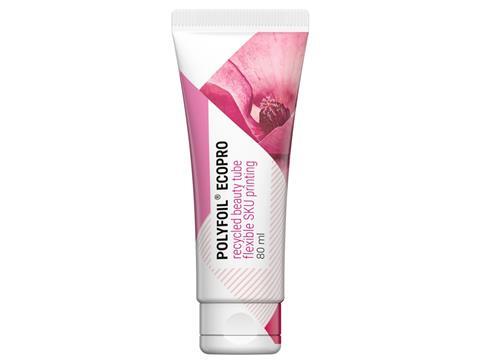 Hoffmann Neopac has developed a recyclable mono-material double barrier tube – said to contain up to 60% EU food-grade post-consumer recyclate – for cosmetic and personal care applications.
Having achieved a Suez Grade A rating and product approval from RecyClass, the Polyfoil EcoPro tube is reported to be fully recyclable in existing HDPE streams. Up to 60% food-safe PCR material is incorporated into the shoulder and cap of the pack.
It is available with a body wall thickness of 0.35mm – a 30% reduction compared to standard Polyfoil tubes – as well as a range of diameters of 30-50mm and capacities of 50-200ml. Hoffmann Neopac suggests that HDPE flip-top caps or rPE screw caps can be applied to seal the pack.
Amongst other printing types, the tube is compatible with inline digital and offset printing, which hopes to enable manufacturers with large volume cosmetics and personal care products to utilise the solution. It also aims to facilitate variable packaging designs for different languages, product variants, and limited offer promotions.
The Polyfoil EcoPro was unveiled at Luxe Pack NY on 10-11th May. It serves as an addition to the EcoDesign series, which also features the PaperX fibre-based tube; the Sugarcane Tube, designed to incorporate renewable raw materials; and the PICEA Tube, claiming to contain 95% renewable material in the tube body and shoulder – 9% of which comes from spruce wood sourced from wood waste at sawmills.
"Our new Polyfoil EcoPro tubes and the overall PCR portfolio expansion are a result of our continued commitment to developing sustainable packaging solutions that reduce environmental impact and support a circular economy," said Keisha Broadway, head of Sales North America at Neopac. "We were excited to introduce the new series at Luxe Pack and demonstrate the innovative design and functionality to attendees."
At interpack 2023, Blue Ocean Closures, Stora Enso, and AISA launched a paperboard tube with a fibre-based closure, said to contain over 85% fibres. The entire pack is designed for recycling and it aims to decrease the use of plastic in tube manufacturing.
Additionally, TUBEX has developed a recyclable, mono-material tube – apparently utilising 100% recycled aluminium and 95% post-consumer recycled content – for La bouche rouge's perfume refills.
If you liked this article, you might also enjoy:
McDonald's Director of Sustainability in Europe on the company's approach to packaging sustainability
McKinsey on whether or not on-pack sustainability claims affect consumer spending
Perspectives from industry-leading experts on the EU's Packaging and Packaging Waste Directive revisions
A deep dive into the most important packaging sustainability trends and solutions