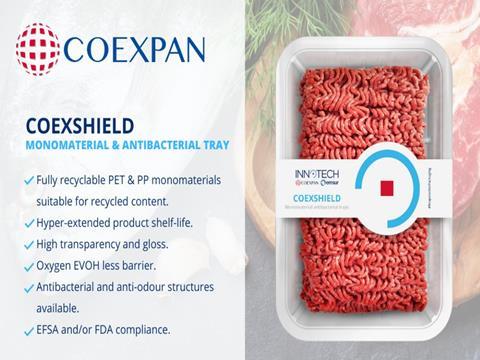 COEXPAN announces a range of packaging solutions that include its COEXSHIELD monomaterial PET or PP trays for fresh food applications, which it claims can expend shelf-life from 7 to 12 days.
Developed by INNOTECH, COEXPAN's Innovation and Technology Centre, the new range is designerd to replace complex medium and high-barrier laminates with high-barrier monomaterials that include additives suitable for food contact.
The new range is aimed at reducing food waste in line with the Sustainable Development Goals. The company says that, depending on the product's initial hygiene and food safety conditions, it can increase shelf-life to up to 12 days.
The antibacterial features prevent bacteria growing on the outer packaging of fresh food, according to COEXPAN. It is a rigid plastic solution that can be developed in combination with Emsur and its EMFULL barrier lids, which are apparnelty designed to allow complete recyclability of the tray.
Included in the range is the COEXSHIELD RAM 0, an antibacterial tray containing a virucidal additive based on copper micro- and nanon-particles, which is effective against COVID Sars II and FDA approved. The COEXSHIELD Infinite contains antibacterial powder that is effective against E. Coli and C. Yeyuni, while the COEXSHIELD Fresher is an anti-odour scavenging tray that eliminates smells and acid-aliphatic-sulfur compound families; both are FDA and EFSA compliant.
The range is available with a transparent or coloured base, with a high gloss or matte finish. COEXPAN adds that the formulation of the trays offers higher stress resistance compared to traditional materials.
COEXPAN opened the INNOTECH development centre with EMSUR in 2019. Since then, the company has released products including CorePET, a 100% rPET tray for food contact use.