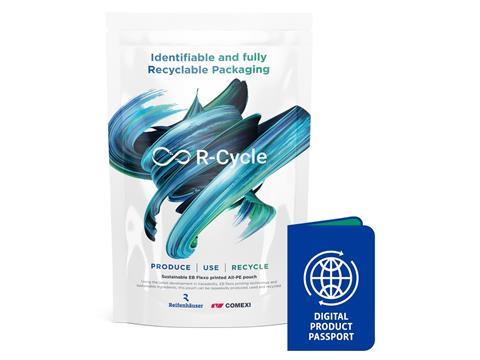 GS1 Germany has published its new Circular Plastics Traceability guideline, aspiring to provide a framework for cross-company processes and data exchange via digital product passport to be referenced by stakeholders across the plastics value chain.
Standardising product data exchange is expected to result in efficient and sustainable value chains, with digital product passports set to help the flow of data between products and companies. R-Cycle is the digital product passport for plastic packaging and is based on GS1 standards.
These standards and solutions are currently used as the basis for various global identification and information processes, including barcodes, which are said to be scanned over six billion times every day.
Amongst other partners, R-Cycle was involved in the development of the guidelines. As part of the new GS1 Germany guideline, it offers a turnkey software-as-a-service solution for the application of digital product passports.
The GS1 EPCIS (Electronic Product Code Information Services) interface is the underlying technology behind the guidelines and is designed to improve transparency in companies and value networks. It provides, transmits, and expands information about the progress of objects passing through business processes – a process meant to simplify data management and enhance both manufacture and recycling.
As recyclability assessments, EPR schemes, plastic tax calculations, and more unfold across the plastic packaging sector, it is hoped that R-Cycle will unlock a less time-consuming and expensive process for generating relevant data.
Digital product passports are also expected to enhance recycling processes and improve recyclate quality. Information stored in the digital product passport can reportedly be used to categorise recyclable packaging at waste sorting facilities, thus forming single-sort fractions.
Markings on the packaging – digital watermarks or QR codes, for instance – can be used to access a digital product passport.
"To date, more than 45 leading global industrial companies and organisations already rely on R-Cycle as a solution for the digital product passport," explains Dr. Benedikt Brenken, director of R-Cycle. "The GS1 'Circular Plastics Traceability' guideline now gives our customers additional planning security to use an open, standards-compliant and future-proof solution with R-Cycle."
Sarah Grede, senior manager Sustainability at GS1 Germany, adds: "To support high-quality recycling and a sustainable raw material cycle of plastic packaging, efforts are required from all stakeholders involved. Therefore, we are very pleased to drive the transformation towards a sustainable circular economy with the 'Circular Plastics Traceability' guideline."
R-Cycle's digital product passport was a finalist and winner at last year's Sustainability Awards.
More recently, Alitheon and Peer Ledger joined forces to integrate their respective FeaturePrint technology and MIMOSI Connect platform – seeking to provide authenticity verification and traceability for industrial and consumer products along the chain of custody.
Avery Dennison has also updated its atma.io connected product cloud with new artificial intelligence features; these are expected to enhance communication and collaboration between supply chain partners and assist in preparation for the EU's Digital Product Passport legislation.
If you liked this article, you might also enjoy:
The Lidl approach to packaging sustainability
How did Brazil achieve its 100% aluminium can recycling rate – and can it be replicated in the EU?
Experts have their say on the EU's Packaging and Packaging Waste Directive revisions
A deep dive into the most important packaging sustainability trends and solutions