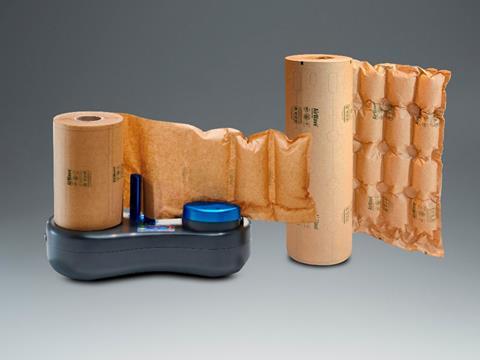 Flöter Verpackungs-Service GmbH's PaperWave Bio paper air cushions – which are FSC-certified biodegradable and reportedly made of 100% recycled paper – have been awarded the WorldStar Packaging Award under the e-commerce category.
Apparently, the air cushion films are inflated directly at AirWave packaging stations, which, according to Flöter, saves both energy and CO2 emissions that would otherwise be used in transport. Upon inflation, they are thought to consist of 5% and 95% air and serve as an affordable and convenient solution to protect products in transit.
The cushions are certified as recyclable by the Paper Technology Foundation, with its compostable sealing layer said to be thin enough that it does not contaminate the pack's recyclability. Having passed the pre-test at Western Michigan University as PaperWave Box, it is claimed that they are disposable in both organic waste and kerbside bins.
Airwave PaperWave is a finalist under the E-Commerce category of the Sustainability Awards 2023.
Towards the end of last year, Sealed Air released a 'recycle ready' cushioning solution containing a maximum of 50% recycled plastic. Of that figure, 30% is said to come from post-consumer recycled waste, while the rest is made up of post-industrial recycled content.
Meanwhile, Stora Enso's Papira, a lightweight foam made from pulp fibres, claims to be both plastic-free and fully recyclable. It aims to replace fossil-based, polymeric packaging foams made of polyethylene, polyurethane, and expanded polystyrene.
If you liked this article, you might also enjoy:
McDonald's Director of Sustainability in Europe on the company's approach to packaging sustainability
McKinsey on whether or not on-pack sustainability claims affect consumer spending
Perspectives from industry-leading experts on the EU's Packaging and Packaging Waste Directive revisions
A deep dive into the most important packaging sustainability trends and solutions