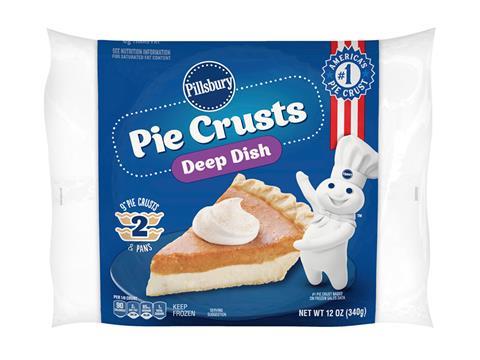 The Recycling Partnership, a USA-based non-profit organisation that 'mobilizes the people, data, and solutions across the value chain to reduce waste and our impact on the environment while also unlocking economic benefits' has announced the launch of a new packaging label feature called 'Recycle Check'.
It will draw on data from the Partnership's National Recycling Database to allow almost any community's residents to scan a QR code on an item and access information about whether that specific item can go into the curbside recycling bin based on the user's ZIP code or location.
The first two brands to roll out the label feature, alongside How2Recycle labels, will be General Mills on its Pillsbury frozen pie crust packaging and Horizon Organic on certain milk cartons. In addition to helping consumers, the Partnership said Recycle Check is also designed to help brands by reducing future label changes and leveraging existing labelling systems.
The feature can be used with plastic, paper, metal or glass packaging, and it is compatible with GreenBlue's How2Recycle and the Consumer Brands Association's SmartLabel labelling systems.
Variability between regional recycling programs and confusion around how to recycle items are well-documented American consumer experiences – a situation that stakeholders across the packaging, waste and government sectors are currently trying to improve.
Recycling organizations and brands have tried a proliferation of labelling solutions and identification technologies to help consumers recycle correctly. The Recycling Partnership is adding this new tool to the mix, informed by its continuously updated database covering more than 9,000 US community programs, or 97% of the US population.
According to the non-profit organisation, the tool is specifically based on information about what is accepted in residential curbside programs – or drop-off programs in areas where that is the primary option – rather than commercial recycling programs.
Consumer confusion partly set the stage for the solution coming out now, said Kendall Glauber, recyclability solutions director at The Recycling Partnership. "On top of that, the policy environment around what companies can put on labels and communicate about recyclability is changing as policy at the state and national level is evolving," Glauber said. "We wanted to provide a dynamic tool that could leverage the data that we have access to."
In the Pillsbury frozen pie crust example, the aluminum pie trays are only currently accepted in about 40% of residential curbside collection programs. In that case, the Recycle Check QR code could help consumers discover whether it is, or is not, okay to recycle.
"We haven't historically had a good way to tell consumers how to check locally," said Patrick Keenan, who leads packaging sustainability R&D at General Mills. "In combination with the How2Recycle label, it really makes it an easy experience for the consumer, and we're really excited to see how many consumers actually scan that code."
General Mills (which is among The Recycling Partnership's funders and a member of the Sustainable Packaging Coalition) aims to make all of its packaging recyclable or reusable by 2030. Keenan added that it's beneficial to work with experts at the Partnership and GreenBlue so that the brand is not the arbiter of what's 'recyclable'.
This article was created in collaboration with AIPIA (the Active and Intelligent Packaging Industry Association). For a full update on active and intelligent packaging, come along to the AIPIA World Congress (co-organized by Packaging Europe) in Amsterdam on 14-15 November. The only smart packaging event covering the entire technology spectrum, the World Congress is a meeting place for the global active and intelligent packaging industry where brand owners, innovators, and other stakeholders can network and see and discuss the latest trends and innovations. Register to attend here.