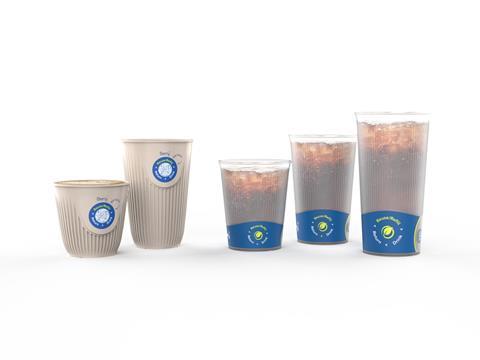 Berry Global has introduced a new range of customisable 'upmarket' reusable plastic cups for the foodservice industry, in a bid to meet the increasing demand for alternative solutions to single-use packaging.
Available in a number of sizes for hot and cold beverages, including soups – Berry says that the solution meets both on-site and takeaway requirements. The cups are dishwasher safe and have an inside stacking rim and ribs, with smooth curves for improved cleaning.
This also reportedly ensures that they retain their 'premium quality feel' even after they have been used several times, while the stackable design means they occupy minimal space.
Berry also says that, despite their durability, the cups are lightweight and can be recycled when they reach their end of life, as they are made from polypropylene.
"We aimed to create a range of plastic cups that is not only reusable but also serve as a canvas for customised expressions for individual businesses," explained Emma Gundersen, Product Designer at Berry Superfos.
"The unique rib structure makes the cups visually appealing and adds a touch of elegance. On top of that, customers can create their own unique look for their brands by playing with the In-Mould Labelling (IML) space and having logos and messages printed on the cup."
The cups can also incorporate an RFID chip or QR code to provide additional customer engagement. The RFID chip offers the ability to set up an automatic return deposit system and refill options, while also ensuring cup maintenance through wash cycle tracking and inventory management.
The Berry Cup range is available in 250 ml and 500 ml sizes for hot drinks and soups and 250 ml, 400 ml, and 500 ml sizes for cold drinks. The hot cups feature heat-insulated material while the ribs aim to ensure additional heat insulation as well as a secure grip.
If you liked this article, you might also enjoy:
The L'Oréal approach to packaging sustainability
What steps is Apple taking to make its packaging more sustainable?
How did Brazil achieve its 100% aluminium can recycling rate – and can it be replicated in the EU?
Experts have their say on the EU's Packaging and Packaging Waste Directive revisions