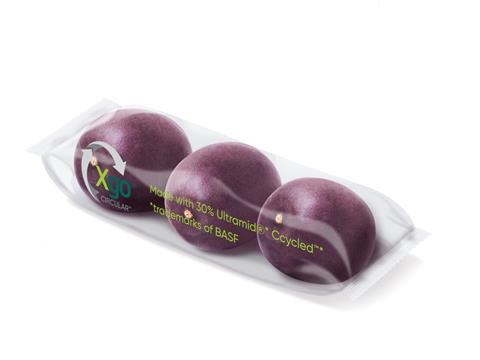 BASF and StePac have reportedly created a contact-sensitive packaging solution for the preservation of fresh produce, making use of BASF's ChemCycling technology to facilitate the production of Ultramid Ccyled polyamide 6 for StePac's Xgo Circular series.
StePac was recently awarded REDcert certification to incorporate Ultramid Ccyled into flexible modified atmosphere packaging (MAP). Its Xgo and Xtend brands are now said to utilise its built-in humidity control to slow the respiration process inside the packaging, preserving the product in transit and preventing it from decaying.
Colombian passionfruit exporter Jardin Exotics is set to be the first company to make use of Xgo Circular as a film for horizontal form fill-and-seal, where it is hoped to slow the ripening process of the fruits during their journey to Europe.
Ultramid Ccyled is expected to make up 30% of the Xgo and Xtend brands' packaging material, although higher percentages are optional. It is also said that packing at-source in the final retail packaging format will eliminate the need for repacking at arrival.
"This alliance will help strike a balance between creating plastic packaging that is as eco-friendly as possible to keep fresh produce longer through more prudent use of lean plastic films," said Gary Ward, business development manager at StePac. "These upgraded packaging formats will continue to maintain their role of significantly reducing food waste, a most important task considering that global food waste is responsible for about 8% of anthropogenic greenhouse gas emissions."
"In a thermochemical process, our partners obtain recycled feedstock from these end-of-life plastics, which is then fed into the BASF Verbund," explained Dr. Dominik Winter, vice president of BASF's European polyamides business. "Using a mass balance approach, the raw material can be attributed to specific products, such as Ultramid Ccycled.
"This helps to replace fossil raw materials and is an important step towards circularity. As chemically recycled plastics have the same quality and safety as virgin material, the scope of plastics that can be recycled for fresh produce packaging is widened."
Other research surrounding antimicrobial food packaging films include the incorporation of coconut waste-derived nanofibers to reinforce polyvinyl alcohol film to create a biodegradable and hydrophobic packaging solution, thanks to scientists from the Department of Food Process Engineering at the SRM Institute of Science and Technology; and the collaboration between Nagaoka University's Department of Materials Science and Technology and various academic institutions in Bangkok realising the significance of cinnamaldehyde as a crosslinking agent in gelatin-bacterial cellulose nanocomposite film.
On the other hand, scientists from the Food Packaging Forum, ETH Zürich, and the Swiss Federal Institute of Aquatic Science and Technology previously led a study that resulted in the development of a list of Food Contact Chemicals of Concern (FCCoC) surrounding food contact packaging. The companies encouraged the immediate phasing out of such substances as part of the EU's Chemical Strategy for Sustainability. However, Marvin Kusenberg from Ghent University remains confident that plastics derived from the process of pyrolysis do not pose a threat of contamination.