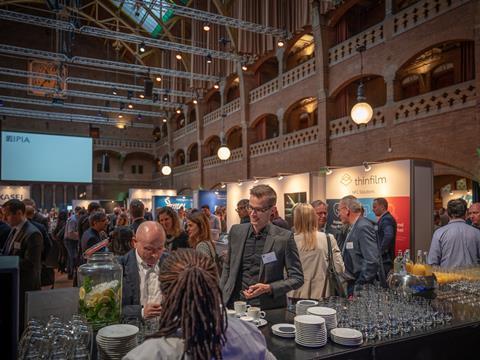 Since the early days of AIPIA Congresses, we have always believed that live demonstrations are an important part of the delegate experience. Live demonstrations of Smart Packaging technologies are a unique feature of the World Congress and the 2022 event is no exception.
Around the hall in Amsterdam (14th-15th November) several leading Smart Packaging providers will be showing some of the latest ideas and innovations on offer. As well as returning exhibitors such as AIMPLAS, Digimarc, Kezzler, Lux-Ident, ST Microelectronics, Securikett, Systech, Wilot and VTT, we are pleased to welcome 'newbies' such as Alma Science, MyCol, Stardust Materials and, one of the biggest names in packaging, Sealed Air, to the Beurs van Berlage in Amsterdam.
One of the features of this year's Congress will be 'Where are we now?', after more than two years of being battered by COVID-19 and other external influences. The Smart Packaging sector continued to develop and innovate during this period so it will be exciting to see some of the progress which has been made across the technology spectrum.
One key area of focus will be the role of Smart Packaging in the increasingly complex puzzle of sustainability. Some of our stand holders will be keen to show how they are engaging in this area to offer solutions to waste and environmental impacts, wherever it originates.
Another highlight of the demonstration area will be the booth dedicated to Smart Packaging for intelligent logistics (SPIL). This is still a time of highly disrupted supply chains, and many factors indicate that this disruption is likely to continue for some time to come.
Smart Packaging technologies have an important role to play in this situation with innovative ways to Track & Trace products, verify their authenticity, defend against counterfeiting and market diversion as well as offer the consumer valuable reassurance of the provenance of the product they are buying. The SPIL project, led by AIPIA and Berenschot, is a consortium across all the stakeholders in the value chain, and will provide some interesting insights into how we are tackling these supply chain issues.
The booths will be staffed throughout the Congress so delegates can get thoroughly immersed in the presentations and still have plenty of time to browse and network with exhibitors.
Yet another reason not to miss the AIPIA World Congress. But hurry, it's less than two weeks until we open the doors to the event. See the full agenda here and follow this link to the registration form.
We look forward to welcoming you to Amsterdam and the AIPIA World Congress!
This article was created in collaboration with AIPIA (the Active and Intelligent Packaging Industry Association). Packaging Europe and AIPIA are joining forces to bring news and commentary about the active and intelligent packaging landscape to a larger audience. To learn more about this partnership, click here.