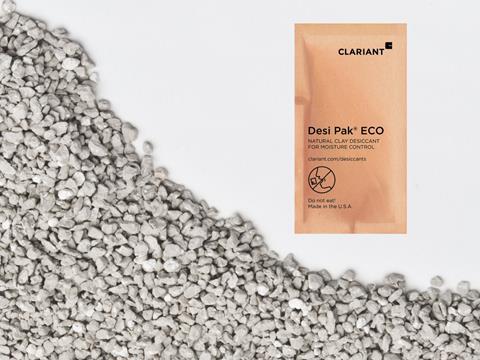 Clariant has implemented bio-based, moisture-absorbing packets into its range of absorbent natural clay solutions in an effort to protect packaged goods from moisture damage and reduce the environmental impact of conventional desiccants.
Desi Pak ECO packets are reportedly made using bio-based paper made from sustainably grown raw materials. According to Clariant, the packets utilise only water-based inks and adhesive and contain responsibly sourced, minimally processed, and highly absorbent bentonite clay granules as an alternative to the synthetic desiccants used in standard packaging solutions.
The packets aim to offer effective moisture control and reduce carbon emissions in both the production and transportation of packaging materials. As well as carrying Clariant's EcoTain label, they have apparently undergone an LCA based on desiccant manufactured in the United States; the results suggest that its simplified production process results in a lower carbon footprint and reduced consumption for both energy and water.
Furthermore, the company states that the packaging used to transport Desi Pak ECO is recyclable and made from sustainably grown raw materials, containing cobalt-dichloride-free (CDF) humidity indicator cards. It is hoped that such solutions will enable customers to reduce their Scope 3 emissions.
Packets are available in standard 1g, 2g, 5g, 10g, and 33g sizes, as well as custom sizes. Its potential applications are said to include clothing and textiles, automotive, machinery, tools, nutraceuticals, and food.
Clariant also emphasises that customers can request packets containing clay desiccant that comply with relevant U.S. FDA (21 CFR) and with U.S. Pharmacopeia USP <670> testing requirements for Auxillary Packaging Components.
"Moisture control has an integral role in the supply chain in preserving the quality and integrity of products sensitive to moisture and humidity," explains Ryan Grauer, head of Sales, Marketing, & Technology, Cargo & Device Protection, Clariant Adsorbents & Additives. "Moisture-related damage has a known environmental impact, creating waste through discarded goods and emissions associated with replacing damaged goods.
"With the increased demand for packaging solutions with a lower carbon footprint, we are excited to offer customers the option of bio-based paper packets that deliver the trusted protection performance of our naturally-occurring highly-adsorbent bentonite clay desiccant."
Last year, Mondi and beck packautomaten teamed up to create FunctionalBarrier Paper, which is designed to protect e-commerce deliveries from both water vapour and moisture damage.
Additionally, food technology innovation company SAVRpak launched SAVRpak Drop-In, which claimed to be the first-ever moisture control technology that extends the shelf-life and freshness of a product up to three times.
If you liked this article, you might also enjoy:
The Lidl approach to packaging sustainability
How did Brazil achieve its 100% aluminium can recycling rate – and can it be replicated in the EU?
Experts have their say on the EU's Packaging and Packaging Waste Directive revisions
A deep dive into the most important packaging sustainability trends and solutions