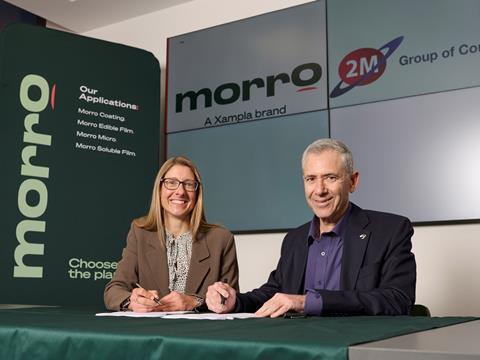 Xampla has announced a partnership with 2M Group of Companies to scale up the production and distribution of its "fully biodegradable" plant-based materials.
2M plans to manufacture multiple tonnes of Morro materials at its Milton Keynes manufacturing site.
Produced from plants, Morro aims to offer a drop-in alternative to plastic that fully biodegrades at the end of its life. Xampla says that its Morro materials are fully biodegradable and home compostable, are safe for food contact and offer high strength, grease and oxygen barrier properties.
The company also says that as its materials are made from natural polymers and are not chemically modified, this makes them exempt from the existing European single-use plastic directive.
Through 2M's subsidiaries, which include formulation, manufacturing, and distribution services, the pair will work together in a bid to address new customer needs in the personal care & Homecare Institutional and Industrial (HI&I) markets, as well as develop new opportunities and partnerships in the packaging space.
Alexandra French, CEO of Xampla, comments: "Our partnership with 2M marks a major milestone that will take Morro to the next phase of commercialisation.
"Working with 2M's wide-reaching network, our collaboration will enable more customers to use Morro materials across a range of products, demonstrating the potential for plant-based materials in eliminating polluting plastics."
Mottie Kessler OBE, Chair and CEO of 2M, says: "Sustainability is one of our core business values and a key part of our growth strategy for the future. We look forward to working together over the coming months with the Xampla team to bring this exciting innovation to our customers. We see huge potential with Xampla's technology and the Morro brand, and are excited at the opportunity it presents to support the transformation of our portfolio to more sustainable technologies."
This partnership is Morro's first technology licensing agreement, following previous projects with meal kit retailer Gousto and global soft drinks manufacturer Britvic.
If you liked this article, you might also enjoy:
The L'Oréal approach to packaging sustainability
The way we talk about plastic needs to change – here's how to get it right
What steps is Apple taking to make its packaging more sustainable?