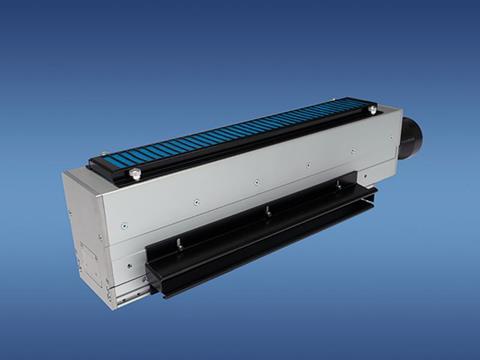 At Labelexpo, hall 4, booth 4 B67, UV specialist Hönle present their latest curing systems for flexo and digital printing applications at package and label printing.
The high-performance curing system LED powerline Flexo was especially designed for curing highly reactive inks in flexo printing applications. The LED curing unit has got a maximum output of > 25 W/cm². According to the application, it is supplied as an air-cooled or a water-cooled version.
UV-/LED-Hybrid is based on the water-cooled version. The unit can be used as a conventional UV or a LED-UV curing device just by an easy and fast changing of the cartridge. The control unit instantly recognizes what kind of technology is equipped and accordingly adjusts all parameters automatically.
Hönle's jetCURE LED is offered in two versions. Both versions are offered with integrated air-cooling but differ in the exhaust-air duct. jetCURE LED T has a cooling air outlet on both sides of the housing. The exhaust air is ducted towards the top. This version is perfect for the use in inkjet printing machines where the LED-UV curing unit is integrat ed into a housing and mounted on the print carriage or is stationary fixed on a R2R plant.
jetCURE LED S is the ideal choice for a free mounting on the print carriage. This version offers a one-sided cooling air outlet, the exhaust air is led sideways. This prevents a direct airflow towards the printing heads which could have an impact on the printing quality. The new jetCURE LED reaches intensities of > 18 W/cm² and guarantees a very fast and reliable curing of inks and varnishes.
The length of the curing unit is variable. It can be adjusted in a 41 mm grid to the individual printing application. The width of its light aperture is optionally 20 mm or 40 mm. The wavelength can be precisely matched with the applied ink or varnish.