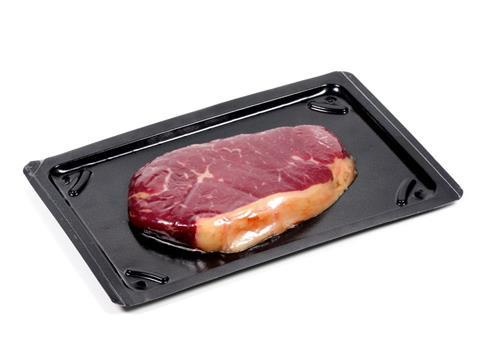 The new TFS407R by ULMA Packaging increases throughput by over 10 per cent and reduces film waste by almost half, the company claims.
This new machine is about to revolutionise the process of skin packing – especially for premium meat products, seafood, fish and cheeses - with its unique "Reduced Scrap" process, developed in partnership with skin packing pioneer Cryovac® using Darfresh® films. The TFS407R is the first ever machine to provide this innovative solution that maximises the on-shelf appeal of products whilst adding to the bottom line through reduced material costs.
Alongside the significant benefits of reducing waste by up to 40 per cent, ULMA's latest packaging machine facilitates up to 12 per cent increase in cycle rate through more efficient positioning of the vacuum valve, which allows faster evacuation and thus delivers higher pack rates than conventional systems. Consumer appeal can be enhanced by the ability to use a plain or pre-printed base web to provide premium appearance.
Skin packaging is widely acknowledged as the ideal solution for a wide range of fresh meat and processed products, not only improving presentation and enabling vertical as well as horizontal stacking but also extending shelf life and maximising the consumer experience of the final product through the retention of flavour and moisture. Consumer convenience is maximised through the integration of easy-open features into the finished packs.
Martin Baldwin, Thermoformer Business Manager at ULMA Packaging, explained: "We love the new TFS407R for obvious reasons. Who wouldn't want to reduce their packaging waste by up to 40 per cent whilst increasing productivity? This latest machine is based on the previous TFS407 but we are confident that there is nothing else like it on the market. We worked in partnership with Cryovac to develop this new technology and there is no doubt that it will lead the way in the evolution of the skin packaging sector."
The TFS407R has just won the 2018 Innovation Contest at the International Exhibition of Equipment and Technologies for Livestock, Dairy and Meat Production in Moscow.
More info: