Sustainable packaging solutions will be at the heart of Sonoco Europe's booth at this year's FachPack trade show.
The design of booth 5-247, hall 5, mimics a life-like environment consisting of a kitchen area and a supermarket corner. A 'Wall of Recyclability' shows how Sonoco reduces material consumption and ensures high recycling rates for its packaging solutions. One of the product highlights at the trade fair is the brand new Hermetic SquareCan, which offers producers of sensitive goods like nuts or coffee a stand-out, nearly square packaging solution with excellent design opportunities.
"For Sonoco, producing consumer packaging means listening closely to what consumers say, but also understanding what our clients need," said Séan Cairns, Vice President and General Manager Sonoco Consumer Products. "The perfect package does not merely protect its content from things like moisture, or handling during distribution; it must also be convenient and stylish – while having as small an ecological footprint as possible." At the FachPack, Sonoco invites visitors to see and feel the advantages of its packaging solutions first-hand, and in the environment where consumers use them most. In the kitchen area, samples of clients' products range from muesli to mini sausages, and highlight what Sonoco's packaging is all about: combining optimal product protection with advanced design features. In the supermarket corner, Sonoco demonstrates how elaborate decorations, individual packaging shapes and high-quality materials can be used to catch consumers' attention.
Introducing the Hermetic SquareCan
The Hermetic SquareCan, which will debut at the FachPack, is a prime example of a packaging solution that combines design and functionality.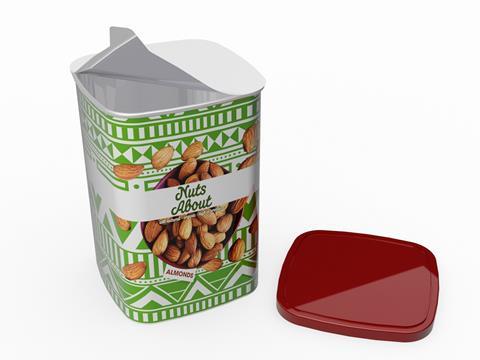 With their unusual rectangular format, Sonoco's SquareCans stand out at the point of sale. Printable lids produced with in-mould labelling technology (IML), such as a convenient hinge lid, offer additional printing space for brand messaging, or for extra content, such as recipes and health tips. The virtually square shape of the rigid paperboard container also increases the efficiency and cost-effectiveness of logistics processes, as it optimally uses the available space during transport and in storage facilities. Sonoco produces the Hermetic SquareCan in a newly developed process that considerably increases the container's stability. In addition, a sealed-on aluminium membrane turns the new solution into an air- and gastight vault perfect for sensitive products like coffee, nuts or even baby food products, including powdered infant formula (PIF).
Sustainability as a crucial factor
When it comes to creating new packaging solutions or improving existing ones, Sonoco's development team always considers the use of recycled materials and possibilities for recycling after use, in addition to features that will keep the product safe and attract consumers. A printable paper-bottom for instance, further enhances the recyclability of the new Hermetic SquareCan. "We put sustainability at the heart of our product development", explains Andreas Rothschink, Sales Director at Sonoco Consumer Products Europe. "The use of IML technology, for example, enables us to produce mono-material plastic packaging where both the container and the lid are made of polypropylene and thus have a recycling rate of close to 100 percent. At the same time, we produce our rigid paper containers using recycled paperboard as the main material."