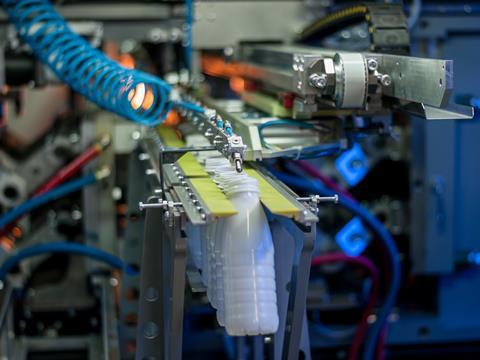 PET Technologies recently brought to the market a new flexible PET stretch blow molding machine – APF-Max.
Its output varies between 3000 and 14000 bph, while the bottle volumes it can create range from 0.1 to 6L. The product range includes six basic models and five extra ones.
According to the company, its new machine boasts streamline form, alternative coloring, and a modular concept and controller that are easy to operate.
The APF-Max blow molder is equipped with B&R PLC, while a central lubrication system aims to make machine maintenance easier.
Meanwhile, the new solution can also produce a range of preform neck standards. With the same machine, customers can produce both 100ml bottles for sanitizers, for example, and 1L wide neck jars for coffee.
A hot fill option is also applicable to the whole APF-Max series and is an additional advantage to the features described above.
The APF-Max aims to keep pace with a quick-change system. In addition, an equipment concept allows for the use of different mold sets for a wide range of PET bottles with minimum changeover time.
The blow mold is equipped with non-spill quick-change connections and can be replaced in one piece. Thus, 15 minutes are enough to change the blow mold and start to produce another bottle format.
With an all-electric configuration, servo drives provide precise positioning together with high speed, stable heater conveyor speed and blowing process. The stretching rod position is automatically controlled depending on the bottle height when the user switches from one bottle format to another.
The APF-Max blow molder is equipped with a special short-wave near-infrared heating system (NIR). While this is not a common method for the PET blow molding market, the company says that it makes preform heating more efficient while consuming fewer kilowatts.