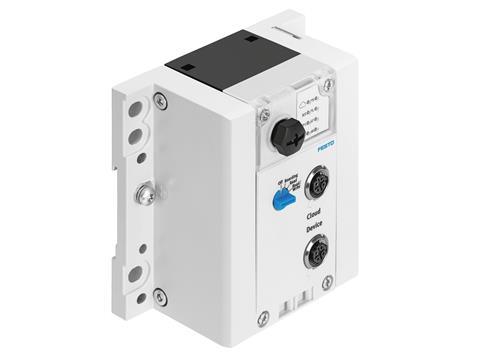 Automation specialist Festo is launching a new Cloud interface for smart Festo products. The CPX-IOT Gateway is a secure, low-cost and easy-to-implement digital solution, enabling users to enter into the world of digitalisation and data analytics in an easy-to-manage and entirely safe way. It provides the first step for companies wanting to develop Industry 4.0 proof of concept or pilot projects with simple, programming free, on-boarding.
The CPX-IOT Gateway module securely connects components and devices from the field level to the Cloud and through the MyDashboards web browser, provides access to highly visual, easy-to-navigate dashboards. This gives engineers and managers visibility over the performance of their devices. It provides live data and historical trending of component data points, error status and overall condition monitoring so engineers can adapt their processes accordingly.
All Festo smart products are equipped with a type label which includes a Data Matrix code called the Festo Product Key. The CPX-IOT Gateway is simple to install and instantly recognises the exact connected device from the Product Key. It then automatically displays the relevant data for that device type in a pre-configured dashboard, removing the need for users to have extensive programming and web-design capabilities.
The traditional approach to designing a secure automation architecture has been to keep the entire industrial network separate from existing IT systems and prohibit access to the outside world. While a very secure way of operating, this methodology prevents the necessary interconnectivity of systems to realise the benefits of Industry 4.0.
In designing the CPX-IOT Gateway module, Festo first looked at best cyber-security practice and then applied this to the automation world. The result is a device with a very secure on-boarding process. The gateway collects information about Festo devices and their statuses via an Ethernet connection and a standardised communication protocol such as OPC UA. It then sends that information to the Cloud via a second Ethernet connection, using IoT protocols such as AMQP or MQTT.
The use of standard industrial technologies ensures that the cost of the CPX-IOT Gateway is highly competitive and opens the possibility of its use to a wider customer base. Data is exported to and stored in a Festo cloud hosted within the EU by Microsoft Azure, which also provides the user and security management.
The CPX-IOT Gateway has been tested to work with enterprise grade firewall vendors like Cisco, Fortinet, or SonicWall. It has also been demonstrated to connect to the Siemens Mindsphere and Rockwell Automation FactoryTalk Cloud Solutions.
"Whether you call it "Industry 4.0", "Made Smarter", or "Manufacturing Innovation 3.0" will depend on where you are in the world. What doesn't change is the increased digitalisation of plant, equipment and business systems," says Andy Parker-Bates, at Festo.
"The technologies to enable this are now commonplace but the biggest hurdles to implementation are the security of data and systems, the cost involved, and the skills required to install and maintain them. Festo's new CPX-IOT Gateway addresses all these issues, making it easier than ever before for manufacturers to embrace Industry 4.0 practices."
"The cases for Industry 4.0 are becoming a lot clearer, however, in parallel to the development of the necessary standards and technologies, we need to move our people and teams along the same journey. In some ways this is even harder and could take longer, so I see a great benefit in providing an easy-to-connect solution as a first step to gain awareness and confidence. There is a whole roadmap of enhancements, new products and features that will roll-out behind the CPX-IOT but it is a great opportunity for early adopters to get started."