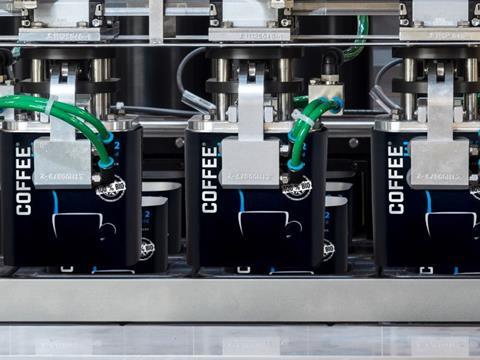 Since March of 2018, the organic ground coffee "COFFEE³" has been on store shelves. The specialty of COFFEE³ is that the ground coffee is available in an InlineCan.
The cube-shaped carton packaging was designed by Optima in collaboration with other companies. The barrier features make the InlineCan an alternative to common vacuum packaging.
"It took several years of intense teamwork with Optima from the first idea to the completion of the new product. We are happy that we can now present the result in our stores", said Michael König, Managing Director of NewCoffee GmbH & Co. NewCoffee is a subsidiary of Aldi Süd and the production plant is located in Ketsch and in Mühlheim on the Ruhr. An OPTIMA CFS filling and closing machine takes the semi-completed packaging from a Hörauf production machine. The Optima machine fills the coffee into the InlineCan and subsequently gas flushes the can with nitrogen and seals it.
"With this machine we accommodated the market needs", said Ulrich Burkart, Sales Director of Food Solutions at Optima. After several years of development, the InlineCan is celebrating its first success in the coffee industry. "Besides ground coffee, the InlineCan is also suitable for whole beans and instant coffee", added Ulrich Burkart.
Refilling coffee is a thing of the past
The requirements of the end-users were the focal point during the development phase. No refilling is necessary due to the re-closeable lid and easy to open can. The cube shape of the InlineCan makes it easy to remove remaining coffee. It is a requirement to protect the aroma and freshness of the coffee. "Up to 800 different aromas are hiding amongst the beans," informed Aldi Süd. Optima protects the aroma and freshness of the coffee filling with a gas blanket right after the coffee is ground and sealing the can with an aroma-proof membrane. "The InlineCan is optimal for products such as ground coffee due to its air and moisture tight packaging. Last but not least, the InlineCan grabs attention with its eye-catching and trendy design.
The outside of the InlineCan package provides space for detailed product information. This benefits the coffee manufacturers, they are also no longer locked into pre-determined standard weights and volumes (e.g. 250 and 500 grams). In addition, a permanent brand recognition is created since the original packaging remains.
Will the InlineCan replace the established vacuum packaging?
The aluminum vacuum bag was established in the 1960's and not much has changed since then. Therefore, the market launch of the InlineCan was a small revolution. For years coffee manufacturers and the packaging industry have been trying to optimize coffee packaging. Whether or not the InlineCan will replace the vacuum package has to be seen. However, several companies have already inquired about the new packaging. Optima's next objective is to design a recyclable InlineCan striving for an aluminum free version.
More info: