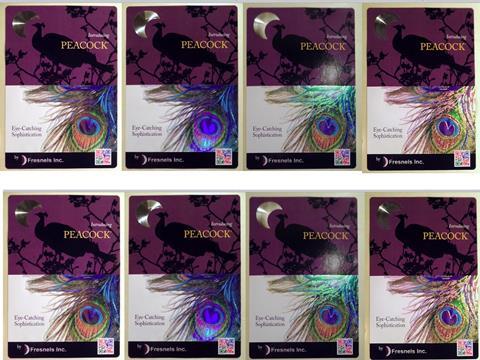 New optically variable foil (OVF) nanotechnology, which has been developed to improve the visual appeal of branded packaging concepts and produce eye-catching carton designs has been launched by leading international supplier, Fresnels Inc.
The easy-to-use, robust and secure 'Peacock' stamping foil is inspired by the iridescence found in nature to deliver an arresting palette of colours and contemporary effects, which can be applied by brand owners, printers and converters using standard foil application techniques.
Providing a striking visual effect similar to optically variable inks (OVI), 'Peacock' foils can be applied quickly and easily without the requirement for registration equipment, saving time and costs in the process.
A choice of metallised or transparent foils are available to suit a wide range of commercial packaging applications, which are supplied in different orientations to ensure that an array of colours can be combined and applied for additional visual impact.
The nanotechnology, which is easier to see and apply than traditional security inks, reflects the naturally occurring colour variations seen in a peacock's tail feathers – a dramatic spectrum of colour changes running from iridescent greens to bright gold.
The advanced colour change features captured in the 'Peacock' designs are difficult to replicate and can therefore be adopted for use as an added-value, cost effective foil-based anti-counterfeiting device for ID documents.
A further packaging design benefit is that foils can be used to produce pairs of highly saturated iridescent colours, producing the striking visual signals of bright iridescent colours that are common in other creatures: hummingbirds, peafowl, beetles and butterflies.
More info: