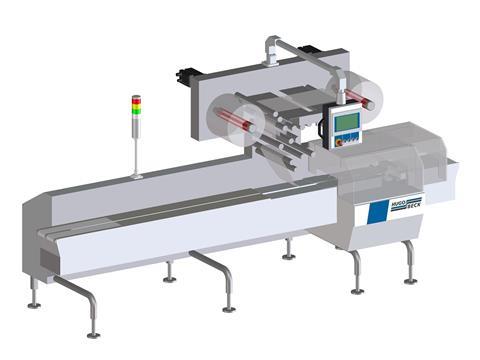 Packaging machine specialist Hugo Beck has launched the flowpack R, a compactly built, hygienically designed horizontal flowpack machine, which they say is capable of reaching speeds of up 300 cycles per minute.
The flowpack R machine, which is suitable for many fresh and frozen food packaging applications, sets a new benchmark for Hugo Beck in hygienic design. With increasingly stringent food hygiene standards, Hugo Beck has focused its efforts on designing a machine that is easy to clean, simple to access and quickly adaptable for different product lines.
All surfaces with the potential to come into contact with products are made of stainless steel with a surface roughness of ≤ 0.8 µm and all materials are fully approved for food contact.
Hygiene risks are further mitigated as the designers have avoided the inclusion of any bends and difficult-to-access areas that would normally act as dirt traps. This also further enhances the ease of cleaning.
The flowpack R has a balcony design and high ground clearance so that wet cleaning can be carried out at any time. And the slanted stainless-steel elements allow liquids and contaminants to drain or fall off easily.
Speed and flexibility are also key to the flowpack R design. The machine is equipped with a rotating transverse sealing unit, enabling it to achieve up to 150 cycles per minute as standard, or up to 300 cycles per minute an optional feature. Faster machines are also being planned, enabling applications of up to 700 cycles per minute.
Timo Kollmann, sales director at Hugo Beck, said: "Hygienic design is an essential requirement for many food packaging applications. This, alongside the need to wrap a wide range of products quickly and flexibly, means that our new flowpack R machines are ideal for delivering perfect packaging results at high speeds within a very hygienic production environment."
The balcony design ensures a strict separation of the drive technology and product transport areas, with drive systems and tooth belts located at the rear. The switch cabinet is also located on the rear of the machine, reducing cable lengths and distances and enabling more effective wet cleaning as well as helping remove any possible dirt traps.
As standard, all belts are blue and made of materials approved for contact with food. A range of options are available with the flowpack R, including detectable cable connectors, and screw locks, ensuring that there is no risk of product contamination.
Each flowpack R machine is operated via an intuitive touch screen. With its easily exchangeable forming shoulders and tool-free operation, changeover times are significantly reduced, greatly improving the flexibility of production lines.
Designed with a compact footprint, the flowpack R saves space and can be easily integrated into existing lines. This makes it ideal for the packaging of fruit and vegetables, sausage and meat products as well as cheese and dairy products. Frozen products, confectionery and bakery products can also be packed quickly and safely, whether individually or in bundles.
Each machine is available with a range of options depending on its intended use. These include a variety of handling systems, such as cascade belts, and robot systems used for feeding, stacking and grouping products for packing.