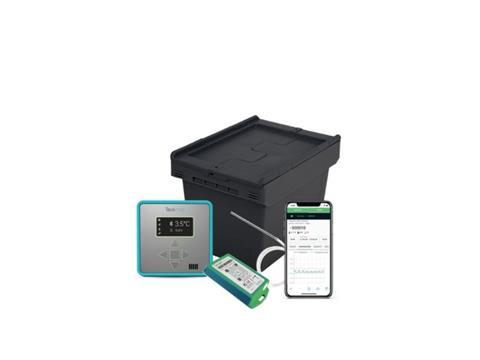 BITO-Lagertechnik Bittmann GmbH has developed a digital high performance box and transport system for shipping temperature sensitive pharmaceutical products in cooperation with start-up Tec4med Life Science GmbH. The box also fulfils the specific demands on the transport of COVID-19 vaccines.
Tec4med had previously launched the Nelumbox, a cooling system specifically approved for pharmaceutical transport and storage. Together with Tec4med, BITO-Lagertechnik has now developed a GDP-compliant solution that is suitable for storing medicines and vaccines in a wide range of temperature ranges.
The solution is launching in time for the worldwide vaccination launch to combat the COVID-19 pandemic. "The newly developed system meets the very specific requirements for COVID-19 vaccine logistics," says Nico Höler, CEO of Tec4med. "Many years of logistics expertise paired with our digital concepts from the pharmaceutical industry allowed the development of this product. With our high-performance thermal solution for the -80°C, 2-8°C and 15-25°C ranges and run times of over 100 hours, we are pleased to have developed not only a thermally superior transport container, but also, in addition, an environmentally friendly and resource-saving reusable system. The seamless integration of the Internet of Things, which not only entails the seamless traceability of the supply chain in real time, but also a digital, theft-proof seal, sets us apart from all existing solutions on the market in both thermal and security terms."
Christian Mohr, Product Manager of the Business Unit Plastics BITO-Lagertechnik, adds: "In the past, we were repeatedly confronted with requests from the pharmaceutical sector for special transport refrigeration solutions. When transporting vaccines or medicines, many guidelines must be adhered to in order to guarantee the impeccable condition of the highly sensitive products at all times. Temperatures must be guaranteed and cold chains maintained. Thus, long before the pandemic, we had already given extensive thought to corresponding process optimisations and - with Industry 4.0 - complete digitalisation for the area of logistics, transport and temperature monitoring of pharmaceutical products. In collaboration with the start-up Tec4med, a full-time, digital and certified transport solution has now been created that withstands the high and constantly growing demands on the transport of medical goods, with a clear focus on the user. Ultimately, the newly developed system combines the requirements from the pharmaceutical industry with the competencies of BITO-Lagertechnik as a traditional company in the logistics industry and the competencies of Tec4med as a young start-up in the field of the Internet of Things."