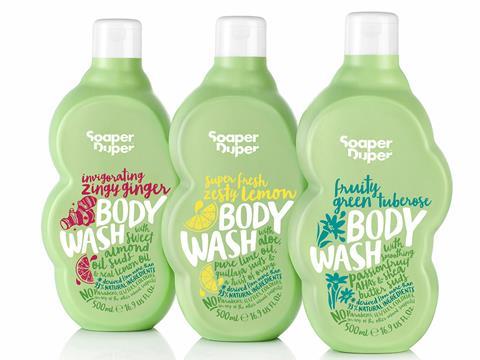 Soaper Duper is a new beauty brand on the block that was launched in luxury store Liberty London at the end of 2016 and has now rolled out into Tesco stores nationwide. Soaper Duper is committed to providing an indulgent, yet guilt-free, wash experience.
This desire to be different is obvious when you look at Soaper Duper's range of apple green coloured body washes. The distinctive bottles are a quirky custom bubble shape and are provided by M&H Plastics based on the design of B&B Studio. They use 100% recycled PCR HDPE material, making them green in both colour and execution.
Furthermore, with a brief to produce striking, punchy and unusual shaped labels for the range, Soaper Duper turned to experts Royston Labels. To ensure the colours were vibrant on a transparent film label, a clear substrate was used on the bubble shaped bottles with a combination flexo and silk screen process with a matt finish.
A Peel and Read label format was used on the reverse of the bottles providing additional consumer information.
Katie Neiman from Foam & Substance commented "M&H and Royston have worked together to provide a pack that is both eye-catching and functional. We are delighted with how our unique bottles have turned out and are sure our customers will love them too!"M&H Plastics is a part of the RPC Group of companies.