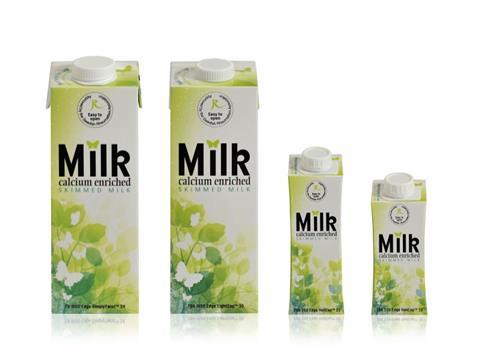 As the world's leading food processing and packaging solutions company, Tetra Pak has a long tradition in providing sustainable products to the world. At the company's site in Modena in Italy, Tetra Pak gave Packaging Europe an insight into its journey towards fully renewable packaging for aseptic cartons as exemplified by a recently launched new version of the Tetra Brik® Aseptic 1000 Edge with the bio-based LightCap™ 30.
Sustainability is at the core of Tetra Pak's brand philosophy, with the motto 'Protects What's Good™'. Back in 2012, the company set itself a challenge for the development of sustainable products, to use 100% FSC™-certified paperboard and to be able to produce a 100% renewable package, achieve a 40% global recycling rate and cap the company's climate impact across the value chain at 2010 levels by 2020.
This has proved successful, as Mario Abreu, Tetra Pak's Environment Vice President, is proud to point out."100% of the paperboard we source comes from wood from FSC-certified forests and other controlled sources. Our Tetra Rex® bio-based pack, which was launched in January 2015, enjoys continued success, and the development of renewable product development continues as planned. The company has achieved a 23.6% recycling rate and has reduced emissions by 15% while the number of packages sold has increased by 16%."
Tetra Rex® Bio-Based package is made of a carton manufactured solely from a combination of plastics derived from sugar cane and paperboard. The bio-based plastics used by Tetra Pak are produced by Brazilian chemical company, Braskem, which sources all of its feedstock from sugar cane grown on degraded pastures. Cap and neck and polyethylene used are made from bio-based materials, and the paperboard used is sourced from FSC certified sites.
The next step for sustainabilityThe launch of a new version of Tetra Brik® Aseptic 1000 Edge with a bio-based LightCap™ 30 is a further major step to secure the company's sustainability goals. It is the first aseptic carton package in the world to receive the highest class of Vinçotte certification for its use of renewable materials.
The new package is manufactured using a bio-based plastic film and cap, made from polymers derived from sugar cane. Combined with the paperboard, this lifts the share of materials from renewable sources in the package to above 80%, the threshold for four-star certification from Vinçotte, the Belgium-based accreditation agency that is world-recognised for assessing the renewable content of packaging products. The new package also boasts an up to 17% lower carbon footprint than a standard package, according to an independent lifecycle analysis conducted by IVL Swedish Environmental Research Institute.
"Increasing the use of renewable materials, defined as natural resources that can be replenished over time, plays an increasingly important role in mitigating resource scarcity and climate change," said Philippe Dewolfs, President of the Certification Committee from Vinçotte "This is the only aseptic carton package we have certified so far and it has qualified for four-star certification."
Charles Brand, Executive Vice President, Product Management and Commercial Operations at Tetra Pak said: "There is a growing trend that consumers want to do more for the planet, and they want brand owners to help. With the authentic certification from Vinçotte, our new package gives customers credible information to communicate with consumers, and helps them differentiate their products.
"Our ultimate goal is to produce all of our packages using only sustainably-managed renewable materials. Launching the new Tetra Brik® Aseptic 1000 Edge with Bio-based LightCap 30 package is a significant milestone for us on that journey."The new version of Tetra Brik® Aseptic 1000 Edge with Bio-based LightCap 30 package is available to customers globally. Switching to the new version requires no additional capital equipment investment.
The next step on the company's sustainability journey will include making the neck opening on an aseptic carton fully renewable.. Further ahead, Tetra Pak will also be looking at alternative barrier materials to aluminium foil and the usage of bio-based inks as well as adhesives and bio-based straws.
A material for a sustainable futurePlastics derived from sugar cane are currently used for premium products. Asked whether he foresees these plastics being used more widely in the future, Mr. Abreu says:
"We do see them being made more available in the future, we aim to make sugar cane derived polymers available for different packages, categories and consumer groups around the world. The first step we took in this direction was our pilot project in Brazil in 2015, where all our 15 billion packages produced contained a certain share of bio-based polymers in the décor and lamination layers. We are also working on changing the other layers to renewable materials in the future. It has to make commercial sense to the entire value chain, starting from the supplier of bio-based polymers to the end consumers. Therefore, we need to secure a certain volume before asking the supplier to change production from standard polymers to bio-based polymers."
More info: