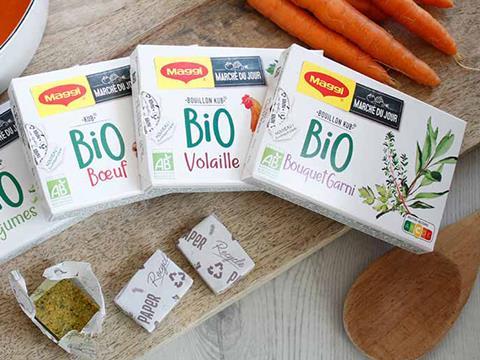 Maggi has broken new ground by becoming the first major brand to use recyclable paper packaging to wrap individual bouillon cubes for its organic range in France.
This is the latest result of Nestlé's drive towards using more paper packaging for its products. The new solution is a coated paper that is recyclable through the paper stream in France whereas, until now, the bouillon cubes were wrapped in a multi-layer laminate that included aluminium.
Agnes Lalanne, global category lead for cooking aids at Nestlé, said: "We want to provide both healthy and more sustainable options. That's why we're happy to bring recyclable paper packaging to a favourite like these Maggi organic bouillon cubes."
The paper used for the wrapper comes from pulp and paper mills that have been certified by the Forest Stewardship Council (FSC) and The Program for the Endorsement of Forest Certification – and this new development marks a step in Nestlé's commitment to making all its packaging recyclable or reusable by 2025, as the company aims to work towards a waste-free future.
Torsten Pohl, head of Nestlé's Product Technology Center for Food in Singen, Germany, said: "The main challenge our team faced was the creation of a foldable, sealable material that is robust enough to provide a sufficient barrier – to keep the product fresh and safe – whilst also being readily recyclable."
Ahead of the launch, the team also worked to refurbish and upgrade existing packaging machines, to allow the new paper wrapping to run on them.