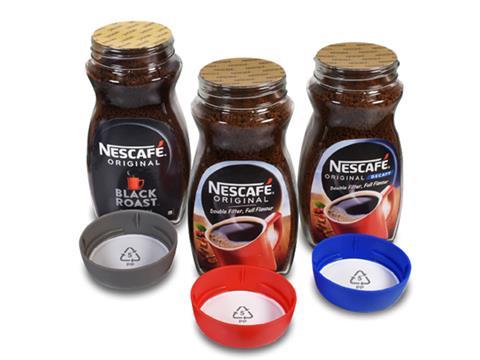 This Innovation Spotlight comes courtesy of Meyer Seals®, whose ALKOzell™ mono sealing solution has been adopted by Nestlé for its iconic NESCAFÉ brand.
With the goal to offer a sustainable, easier to recycle packaging for brand owners, without having to compromise on the sealing integrity or the barrier properties of the product, Meyer Seals® has developed a fully recyclable reseal liner tailor-made to match a polypropylene (PP) or polyethylene (PE) closure and make the closure fully recyclable.
This new development replaces the traditional use of paperboard-backed reseal liners used as a substrate during the induction sealing process, and thereby eliminates the need for post-consumer waste segregation of the caps and closures.
Nestlé has taken a step closer towards achieving its sustainable development goals by adopting fully recyclable caps with the ALKOzell™ mono for their brand NESCAFÉ. Nescafé has decided to move away from using the long-established paperboard backed reseal liner (substrate) to a polypropylene-based reseal liner compatible and fully recyclable with their polypropylene closure.
This sealing liner is EU and FDA food contact compliant, and its recyclability has been tested and approved with Interseroh zero waste solutions, who offer a highly efficient way of sorting lightweight packaging and mixed recyclable materials for customers across Europe.
After nearly 18 months of development, Meyer Seals team is proud of this achievement, which is in line with their EMAS (Eco-Management and Audit Scheme) commitment, aimed towards continuously improving on environmental sustainability and recyclability.
Nishan Goenka, Global Sales & Marketing Director says: "Developing and offering products to help brand owners meet their sustainability targets is an integral part of the Meyer Seals sustainability strategy. It is encouraging to see brand owners like Nestlé leading the way in adopting these changes to offer more sustainable packaging. Moving away from paper-based liners and adopting mono-material reseal liners is a step in the right direction."
Learn more about Meyer Seals:
LinkedIn: https://www.linkedin.com/company/meyer-seals
Website: www.meyer-seals.com
This content was sponsored by Meyer Seals®.